July 28, 2023
Eco-Friendly Toys
9 Best Eco-Friendly Toys Brands: A Savvy Parents' Guide
You know the drill. Stepping on a rogue Lego piece, navigating through the jungle of toys strewn across your living room. Who wouldn't dream of a designated playroom to contain this toy-tornado? But filling that room with the right stuff, which is safe and good for our kiddos, is the real challenge. Ever deciphered the chemical hieroglyphics on your cleaning products? You know the kids have this funky habit of tasting anything they can get their hands on. Ever wondered where your kids toys are made, or what they're made of? Where do you find quality eco-friendly toys? And seriously, when is enough, enough?
Playing is childhood's job. It's how our kids explore their fantasy worlds, pick up social cues, hone their motor skills. But it's up to us parents to ensure their arsenal of fun is, ideally, non toxic. So how do you stock up on the best sustainable toys without causing more harm than good? Here's where we start: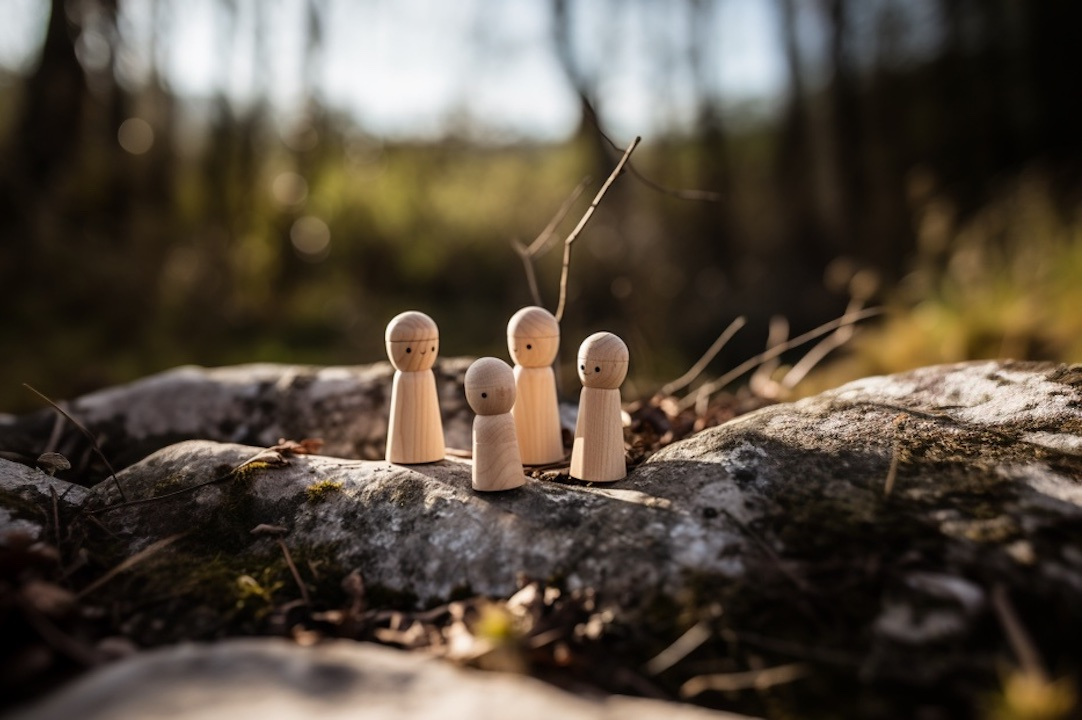 What are the Best Sustainable Toy Brands?
Making the Change from Plastic to Environmentally Friendly Toys.
As awareness about environmental issues has grown, more and more toy brands are focusing on sustainability, using eco-friendly materials, and promoting recycling. Here are some of the best sustainable toy brands that not only entertain and educate, but also reduce harm to our planet.
Here´s the full list of the best sustainable and eco friendly toys.
OUR FAVORITE AND BEST SUSTAINABLE ECO FRIENDLY TOY BRANDS
Senger Naturwelt * - Eco-friendly Plush Stuffed Animals
For kids, stuffed animals are often more than just toys – they're friends and companions throughout childhood. The German company, Senger Naturwelt, has taken this special relationship to heart, producing long-lasting stuffed animals, handcrafted from natural materials like sheep's wool and cotton – they are the epitome of sustainability and quality.
But Senger Naturwelt offers more than just stuffed animals. The range extends from grasping toys and music boxes for the little ones, to animal-shaped bags for the older kids. All products are made from natural materials and bear the signature of Senger Naturwelt - a company dedicated to the production of sustainable and child-friendly toys.
Materials: Sheep's wool, cotton

Country of Production: Germany
Photo credits: Senger Naturwelt
Grimms * - Sustainable Wooden Fantasy World
Grimms toys bring color into the toy box - and in the most natural way possible. From the heart of Germany comes this cool, eco-conscious company that has made it its mission to magically inspire our little ones' imaginations.
Each Grimms toy is unique, handcrafted from natural materials such as wood, and lovingly painted with non-toxic colors. Safe and healthy – that's playtime where parents can breathe a sigh of relief.
But Grimms toys are more than just pretty to look at. The minimalist and creative designs encourage children to shape their own world. From bright wooden blocks to dreamy puzzles and inspiring playsets - everything is designed to promote free and imaginative play.
Materials: Wood, among others

Country of Production: Germany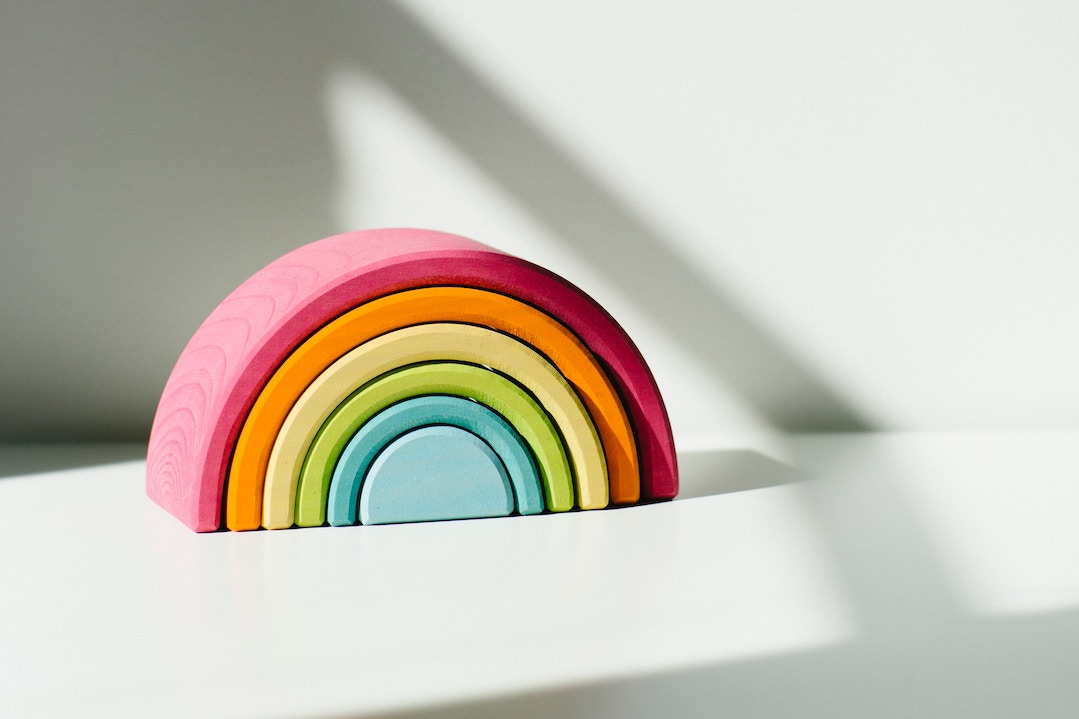 Foto von Max Di Capua auf Unsplash 
The German toy brand Ostheimer has been making generations of children happy with handcrafted wooden toys. Each Ostheimer toy is a little masterpiece. Carved and painted by hand with great attention to detail, charming farm animals, graceful fairy tale figures and much more come to life. Ostheimer toys are not only beautiful to look at, they also promote your child's imagination and hand-eye coordination.
But Ostheimer stands for more than just pretty toys. The brand has its roots deeply embedded in the tradition of sustainability. By using locally sourced wood and eco-friendly paints, Ostheimer emphasizes quality and sustainability at every step of the production process. Ostheimer is awarded with the "Spiel gut" seal.
With Ostheimer, you choose more than just a toy. You choose a piece of history, handcrafted with love and respect for the environment.
Materials: Wood

Country of Production: Germany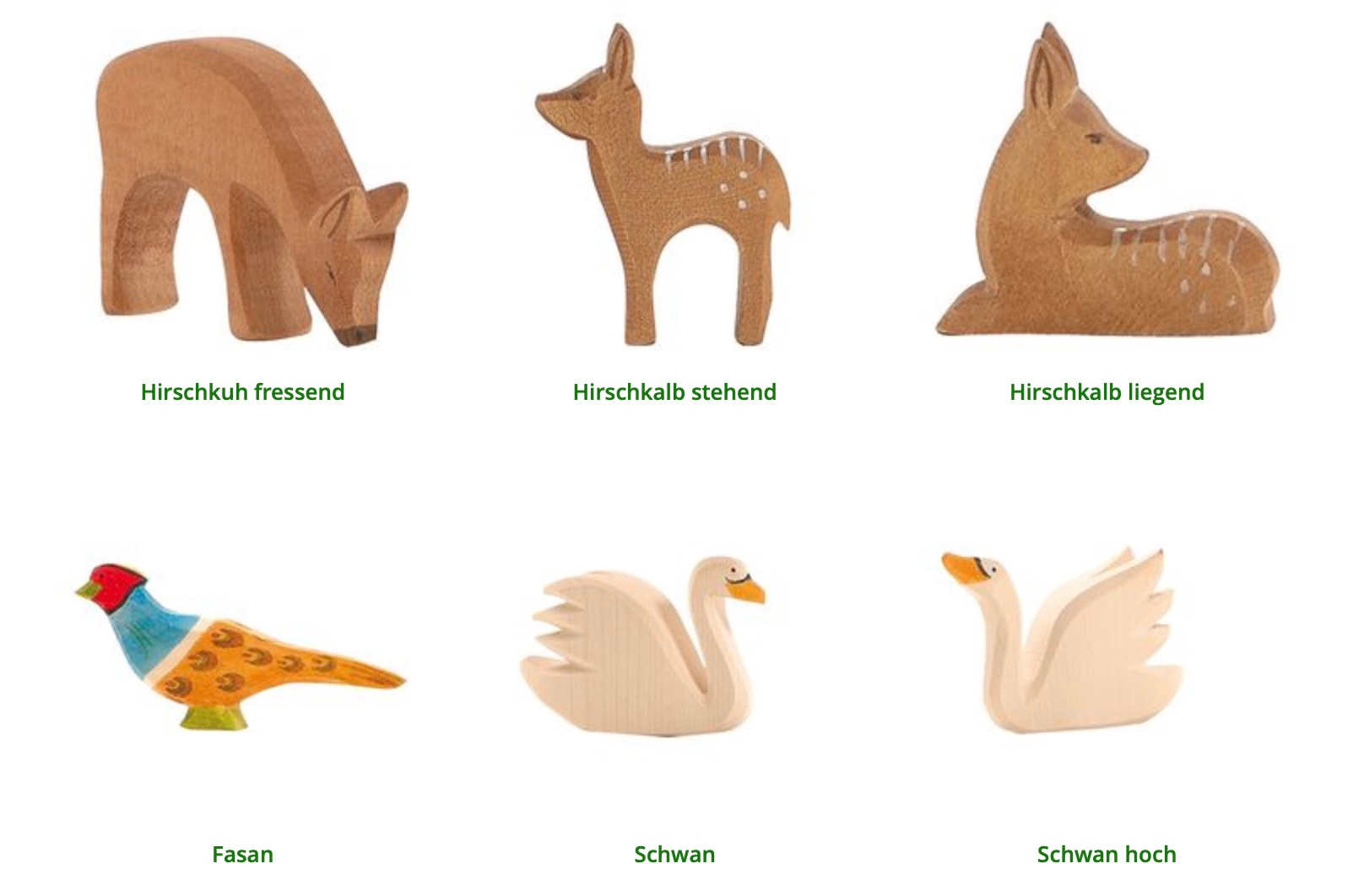 Wobbel * - Das Spielzeug, das Groß und Klein bewegt
A Wobbel board * is more than just a toy – it's a slide, a seesaw, a bridge, a stool, whatever you want it to be. It promotes your child's creativity, balance, and strength. With Wobbel, you give your child endless play possibilities!
But Wobbel is not just about fun, it's also about responsibility. Made from sustainable wood and eco-friendly paints, Wobbel contributes to the protection of our planet.
Materials: Wood, Felt

Country of Production: Netherlands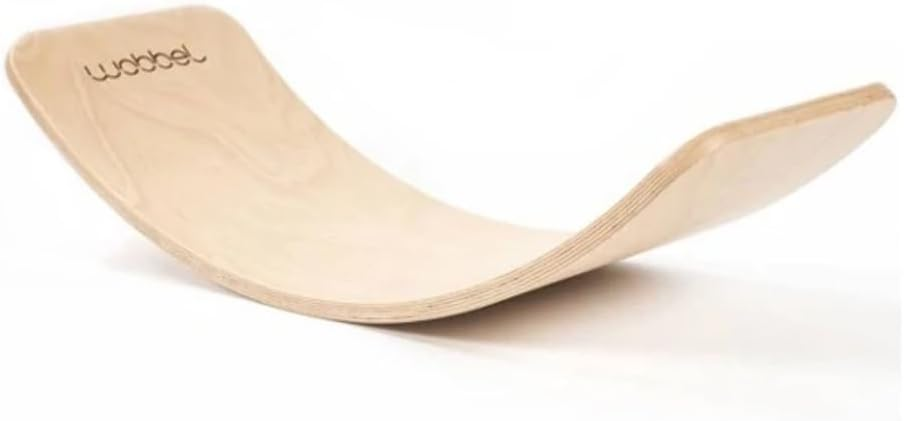 Jump, balance, build - Meet Stapelstein, the small, colorful play wonders from Germany that transform the nursery into a movement course.
Each Stapelstein is a versatile movement tool that challenges your child's creativity and promotes motor skills. Light yet robust, in bright colors and with incredible versatility - Stapelsteins are made to get your child moving, thinking, and laughing.
Materials: 100% Recycled material, toxin-free

Country of Production: Germany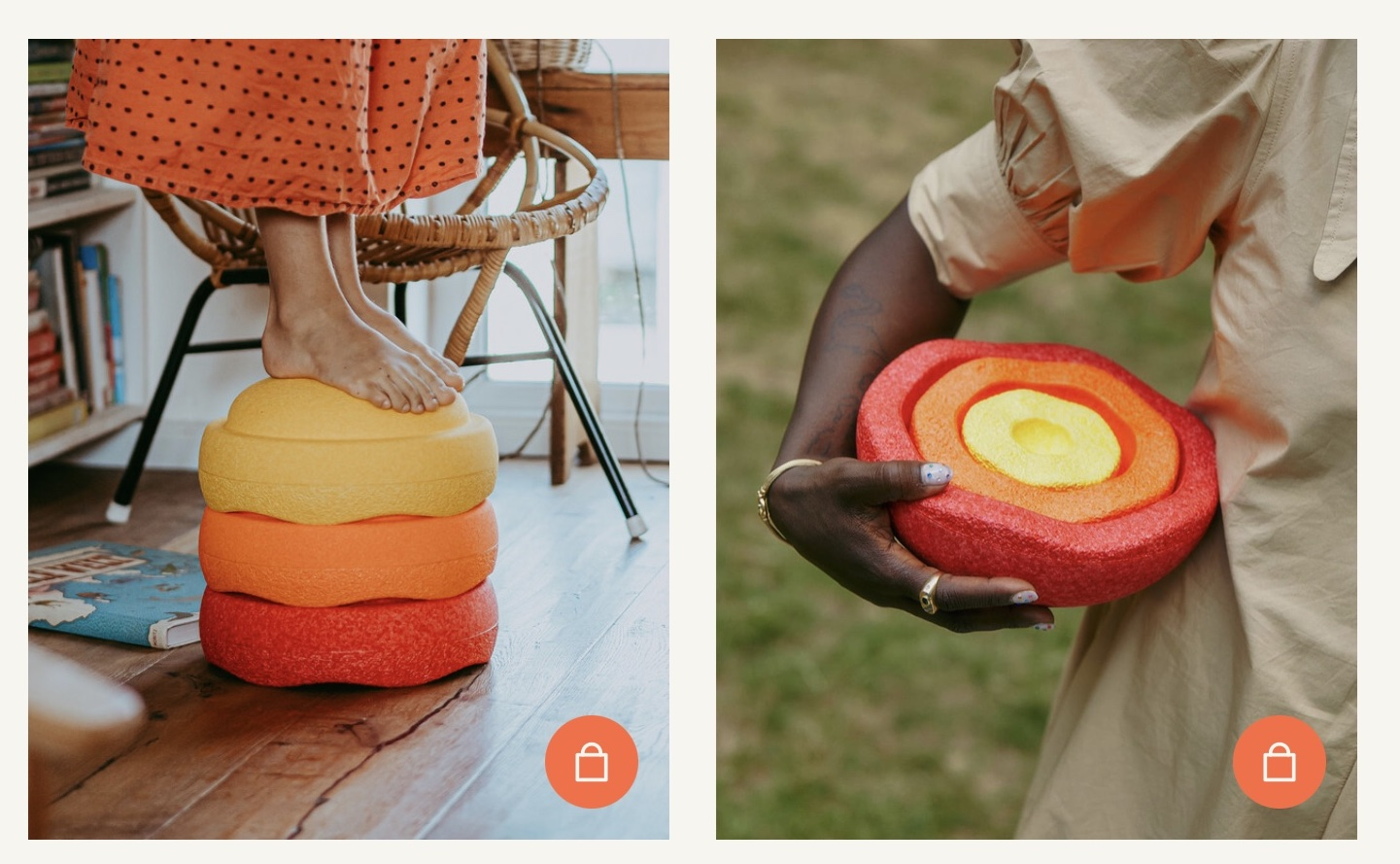 Image l Screenshot: Stapelstein Shop
PLAN TOYS - Pioneers in Sustainable Toys
Plan Toys sets high standards with toys crafted from sustainable rubberwood. Their innovative toys aren't just fun - they're also educational, stimulating creativity and cognitive development.
3 Reasons to Choose PlanToys for Kids:
Sustainability: PlanToys uses rubberwood from trees that no longer produce latex. This is an excellent example of resource utilization, as these trees would otherwise be cut down and burned. Additionally, all materials used are eco-friendly and safe for children.
Educational Value: PlanToys' toys are designed to enhance motor skills, logical thinking, and creativity. They help children understand the world around them and learn crucial skills for their development.
Safety: PlanToys ensures their toys are safe. They use non-toxic glues and paints and follow stringent quality control procedures to ensure each toy meets the highest safety standards.
Materials: Rubberwood, Eco-friendly paints

Manufacturing Country: Thailand
GREEN TOYS -Recycling Transformed into Fun
With a name like Green Toys, you can't go wrong. This California-based company has turned recycling into an art form by transforming recycled milk jugs into imaginative playthings.
So why should you choose Green Toys?
Commitment to Recycling: Green Toys uses recycled plastic milk jugs to make their toys, showing a commitment to reducing waste and utilizing existing resources.
Quality and Safety: Despite being made from recycled materials, Green Toys doesn't compromise on quality or safety. Their products are robust, durable, and, most importantly, safe for children, with no trace of BPA, phthalates, or PVC.
Educational Value: Green Toys provides kids with engaging, fun, and educational playtime experiences. They stimulate imagination and creativity while helping kids to develop motor skills and problem-solving abilities.
Materials: Recycled Plastic
Manufacturing Country: USA
TENDER LEAF TOYS - Learning through Play with Sustainability
Tender Leaf Toys is an English company dedicated to designing beautiful and educationally valuable wooden toys. Each toy is designed to promote learning through play while also being fun.
But Tender Leaf Toys' commitment goes beyond play. They are committed to sustainability and only use replantable rubberwood in their production. The colors and finishes are water-based and absolutely safe for children.
From building blocks and puzzles to kitchen and doctor sets, Tender Leaf Toys offer a wide range of toys that foster creativity, imagination, and fine motor skills.
Materials: Wood (Rubberwood)

Country of Manufacture: United Kingdom
Image l Screenshot: Tender Leaf Toys Shop
Le Toy Van -Beauty Meets Sustainability
Le Toy Van proves that beauty and sustainability can coexist. Their elegant, highly detailed wooden toys are sure to bring joy to any child's playtime.
But Le Toy Van goes a step further. They are firmly committed to creating a better world for our children. That's why they use sustainably sourced, often reforested wood and safe, non-toxic paints in their production.
From intricate dollhouses to imaginative knight's castles to interactive kitchen sets - Le Toy Van creates beautiful play worlds that stimulate your children's imagination while respecting the environment.
Materials: Wood

Country of Manufacture: United Kingdom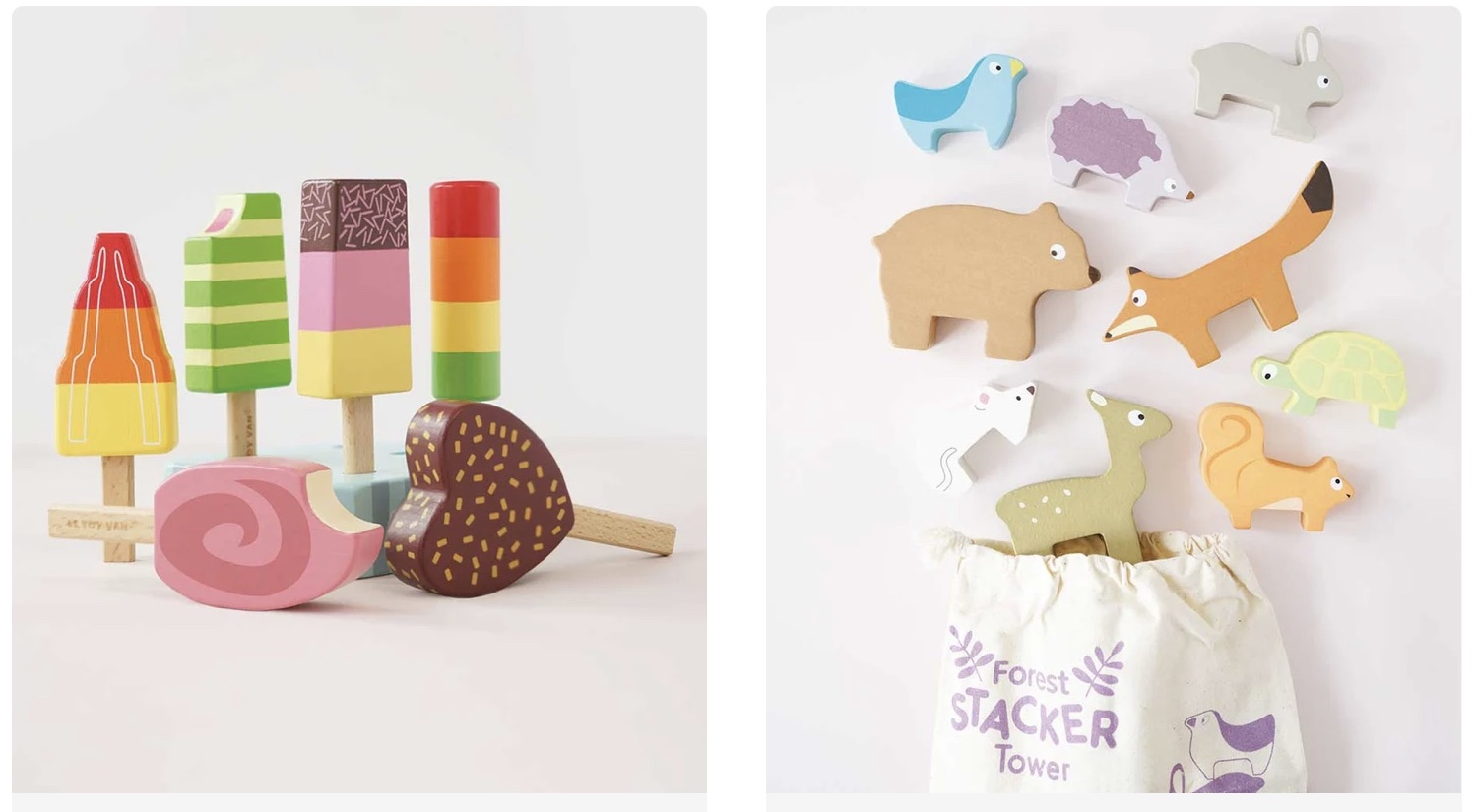 Image l Screenshot: Le Toy Van Shop

There you have it! Nine brands that are putting eco-friendly fun into the hands of our children. Happy sustainable playing!
What is eco-friendly toy? A Dive into the World of Green Toys
Let's talk toys. Not just any toys - but sustainable ones. In a world where 'eco-friendly' is more than just a buzzword, sustainable wooden toys are climbing the popularity ladder, and for good reason. So let's explore what sustainable toys really are, and why they should become your new go-to playmates!
Defining Sustainability in Children Toys
Also known as eco-toys, green toys are those produced from sustainable materials in an environment-friendly and ethical manner. Sounds great, right? But how do you spot one in the wild?
Sustainability Checkpoints
Material Matters: Many eco-friendly toys are crafted from natural materials like eco friendly wood or organic cotton. Plastic? That's a big red flag unless it's recycled.

Production Process: Green toys isn't just about the end product. It's how it gets there. We're talking minimal waste, sustainable practices and fair working conditions.

Longevity: The best eco-friendly toys aren't just a passing phase. They're built to last - durable toys you can pass down instead of tossing away after a few months.
Why Choose Sustainable Toys?
So now that we're all clear on what constitutes an eco-toy, you might be wondering, "Why should I opt for one?" Well, buckle up, because we've got some solid reasons coming your way.
Planet-Friendly: Preserving the planet for future generations isn't just a lofty goal - it's a necessity. Choosing sustainable toys is a step in the right direction, generating less waste and using fewer resources.

Health and Safety: Let's face it - no one wants their kiddos playing with toys packed with harmful chemicals. Sustainable toys tend to be toxin-free and safe for your little ones.

Quality Over Quantity: Sure, sustainable toys might be pricier, but they also last longer. Remember, "Buy cheap, buy twice."

Educational Value: Eco-friendly toys offer a great way to teach kids about sustainability. It's never too early to start!
Ready to make the switch to eco-friendly toys?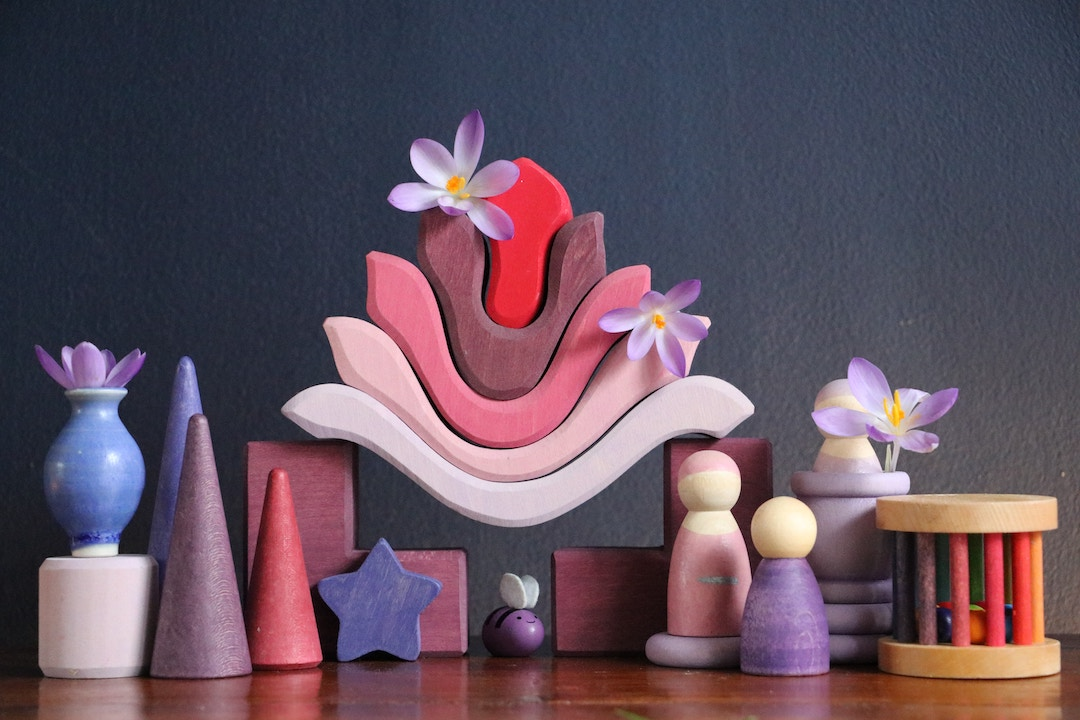 Photo by Soraya Irving on Unsplash
Best Kids Green Toys: What's Trending in the Playroom?
Choose Open-Ended Toys
Open-ended toys are those that can be used in multiple ways. From day-to-day and as a child grows, these toys grow with them. Blocks, magnetic tiles, play food, dress up clothes and dolls are examples of open-ended toys. A cardboard box is the quintessential open-ended toy. These toys encourage children to practice open-ended play, through which they use their kid's imagination, problem-solve and explore creativity. Open-ended toys also last longer and engage children over a larger age range, thus reducing purchasing, waste, and clutter.  
Purchase Non Toxic Organic Toys
Although toys are increasingly safer, many toys are made with toxic chemicals. In the United States, some toy companies must report chemicals that are present in their products and the data is available through an online searchable database. Cotton is often grown with synthetic fertilizers and plastic is made from fossil fuels. You can reduce the likelihood of unwanted chemicals by purchasing organic toys such as fabric dolls made from organic cotton or organic wooden blocks free from lead and BPA.
Buy Fewer Toys
Children do not need a lot of toys. In fact, research shows that fewer toys serve children well. Too many toys, and particularly closed-end toys, leave children feeling overwhelmed with too many options. Fewer toys allow children to play with toys longer, learn more from them, and use their imagination to discover different ways to play. Limiting the collection of toys in a playroom also reduces stress of clutter, saves money on unnecessary purchases, and reduces waste when children outgrow their toys. Fewer toys is a win!
But there are still many high-quality, organic toys that make great additions to a playroom. The following organic toys and open-ended toys help keep a playroom fun, educational and sustainable.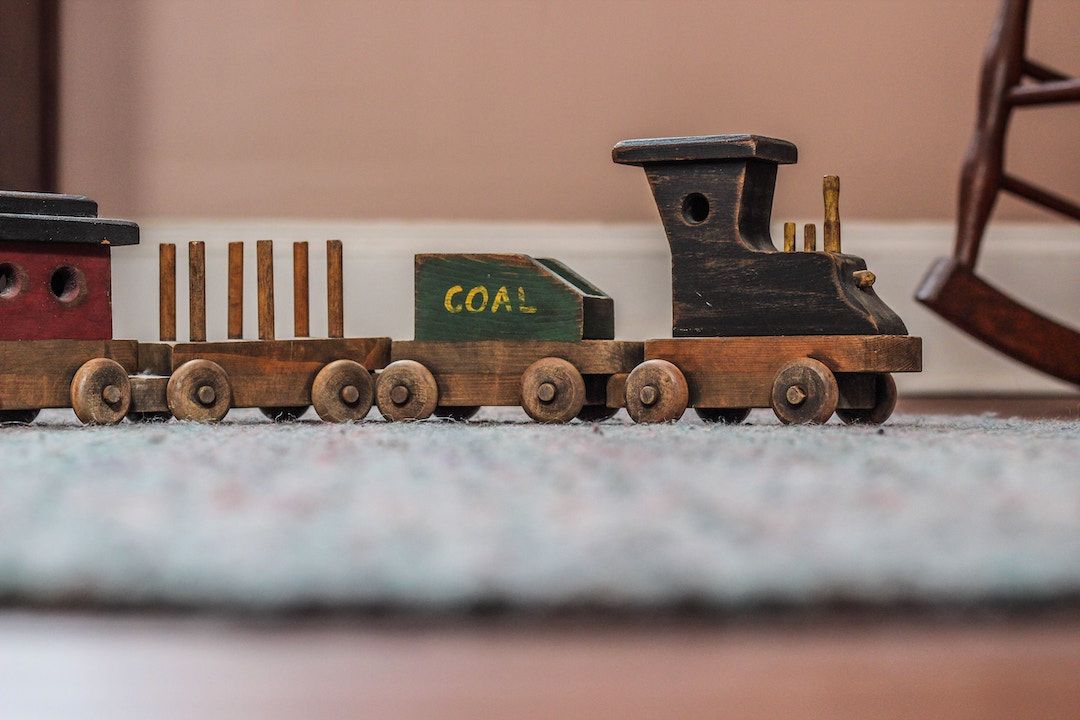 Sustainable Wooden Toys
Organic Wooden Blocks: Picture this: your kiddos creating towering skyscrapers, bustling towns, or impenetrable fortresses with blocks made of real, untreated wood. Endless possibilities for creativity, right? Made from real-wood that is 100% lead- and BPA-free.
So, Are Wooden Toys Really Sustainable?
Great question! Wooden toys can absolutely be a sustainable choice. However, not every wooden plaything automatically qualifies as eco-friendly. Here are a few aspects to consider:
1. Wood Source: Can Your Toy Trace Its Roots?
Where does the wood come from? Is it sustainably sourced wood? Look out for certifications like FSC (Forest Stewardship Council) or PEFC (Programme for the Endorsement of Forest Certification). These internationally recognized labels guarantee the wood comes from forests managed with strict environmental, social, and economic standards.
2. sustainable manufacturing: The Birth of a Toy
What about the toy production process? Is it done in an eco-friendly manner using sustainable materials? This involves using not only sustainably harvested wood but non-toxic paints and formaldehyde free glue, energy efficiency, plastic free packaging and waste reduction.
3. Life Span: How Long Will the Fun Last?
Is the toy sturdy and long-lasting enough to last for years? Durable toys that need less frequent replacement are usually a greener choice. Plus, it has the potential to become a cherished family heirloom.
4. Recyclability: The Toy's Afterlife
Finally, at the end of its life, the wooden toy should be recyclable. Wood is a natural material that can be composted or, in some cases, recycled.
Non Toxic Toys that Won't Break the Planet
So you're ready to go green with your toy choices. Here are a few of our favorite sustainable children's toys that are all kinds of fun and eco-friendly to boot:
Organic Cotton Plush Toys: 
A teddy bear? A bunny? A goose? Whichever of the stuffed animals your little one chooses, it'll be oh-so-cuddly and eco-friendly! These plushies are made of organic cotton, safe for infants and toddlers. Plus, they're machine washable. Less cleanup for you, more fun for your kids!
Play Silks: Give the gift of boundless creativity with these vibrant play silks. The large, colorful scarves are perfect for imaginative play and make everything from fort-building to make-believe costumes an absolute breeze.Great for child development!
Wooden Play Toolbelt and Tools:  Get ready to nurture your child's inner DIY guru! With these wooden tools and toy belt made from sustainable materials, your little one will feel like a true craftsman right in the comfort of your home.
Wooden Dollhouse Who said green toys couldn't be glamorous? This dollhouse, built from natural wood, offers a blank canvas for your child's interior design dreams.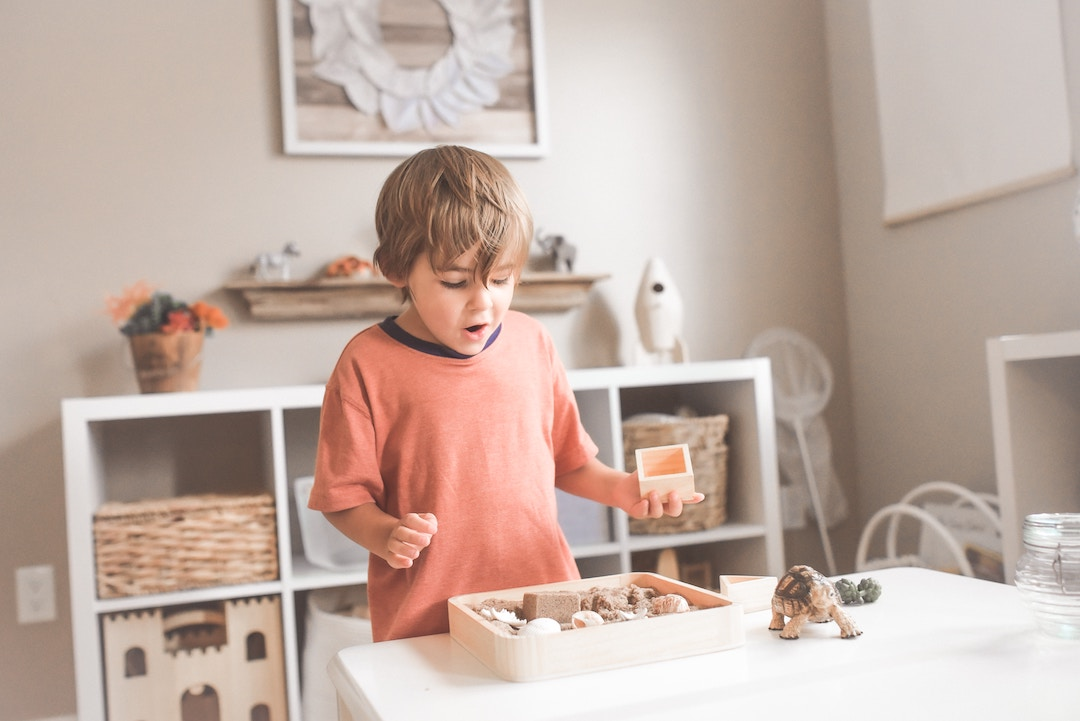 Photo by Michal Parzuchowski on Unsplash
Tips for Picking Sustainable Toys
Now you're convinced that eco-friendly toys are the way to go. But how do you pick the right ones? Don't sweat it, we've got a few simple tips for you:
Check the Materials
It's not all that glitters! With sustainable toys, the materials are what matters. Opt for organic wooden toys or toys made from recycled materials. Plastic? Only if it's recycled plastic!
Review the Manufacturing
Who actually made your eco-friendly toys? And how? A sustainable brand should be transparent about their manufacturing procedures. Look for fair labor conditions, a resource-efficient manufacturing process and sustainable supply chain.
Learn About the Brand
Not everyone who goes green is actually green. Do your research on the brands and find out if they're genuinely practicing sustainable methods or just jumping on the green bandwagon.
Look for Seals and Certifications
There are plenty of certifications and seals that confirm a product's sustainability. These can help ensure you're actually buying sustainable toys and not 'greenwashed' products.
FSC (Forest Stewardship Council): This is an internationally recognized certification system for sustainable forestry. Products with this seal guarantee that the wood comes from responsibly managed forests.

PEFC (Programme for the Endorsement of Forest Certification): Similar to FSC, PEFC is a certification that ensures wood and paper products come from sustainably managed forests.

Global Organic Textile Standard (GOTS): This certificate stands for organic quality and fairly produced textiles. For toys made of fabric, such as stuffed animals, the GOTS seal gives you the assurance that these are made from organic materials and produced fairly. You can learn more about the GOTS certification here.

OEKO-TEX Standard 100: This seal guarantees that the certified product has been tested for harmful substances and is therefore safe for health.

Fairtrade Seal: The Fairtrade seal guarantees fair production conditions, meaning fair wages were paid and decent working conditions were ensured during the toy's production.

EU Ecolabel: The EU Ecolabel marks eco-friendly products that meet high environmental standards throughout their life cycle.
Consider the Child's Age
Not all toys are suitable for all age groups. Sustainable baby toys might look different than sustainable toys for older kids. Choose toys according to your child's age and interests and pay attention to the age recommendation when choosing.
Ensure the Toy is Free of Toxins
Last but not least, ensure the toy is safe. Toxin-free toys are a must, especially for babies and toddlers who tend to put everything in their mouths.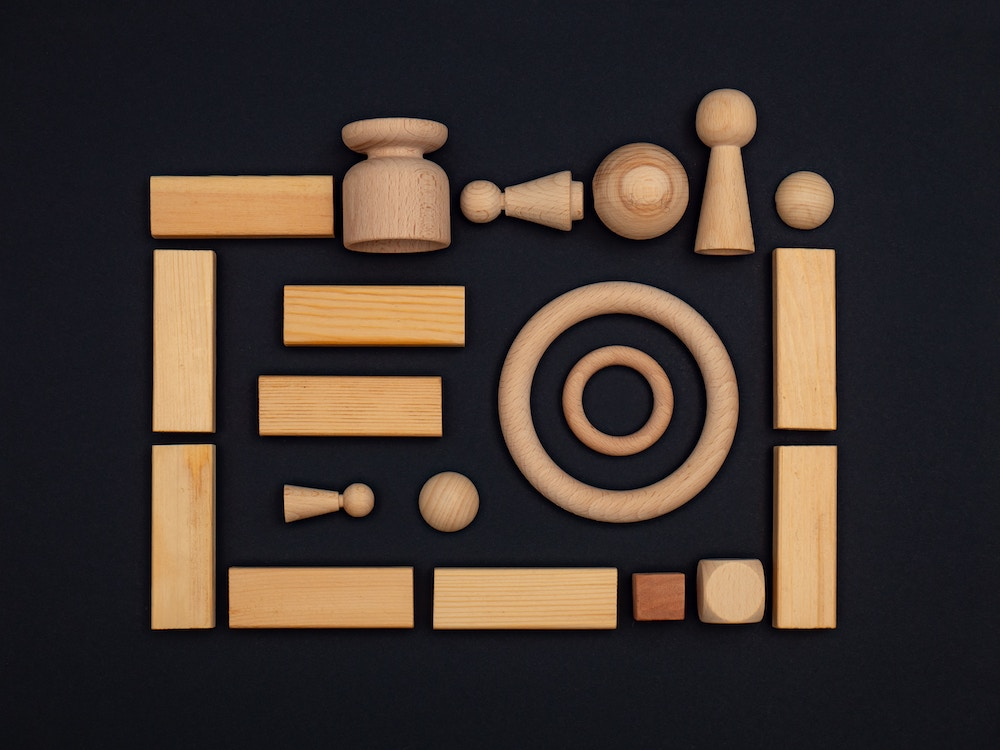 Picture by Dan Cristian Pădureț on Unsplash
CLEANING PRODUCTS
Now that we've got our eco-friendly toys sorted, it's time to dive into another crucial part of our sustainable and safe living equation - keeping the playroom clean. Here's how to make that happen without trading in green for mean:
Try a Natural DIY Home Cleaner
Ditch the chemical-laden cleaners and opt for a simple alternative you can make at home. Castile soap is a great option, and it can be mixed with just a couple of other ingredients to make a quick and easy everyday cleaner that won't leave your playroom stinking like synthetic chemicals.
Choose Green Cleaning Products:
If DIY isn't your thing, no worries! There are plenty of green cleaning products on the market that are safe for children and kind to the environment. Look out for plant-based, biodegradable ingredients and no harsh chemicals.
Limit Use of Antibacterial Products
Despite providing a sense of cleanliness to many, research suggests anti-bacterial cleaning products might cause more harm than good. Without killing the bacteria, the products impact the bacteria enough to allow them to evolve defenses against the chemicals. Overuse of anti-bacterial products, particularly in households, where it's not all that helpful or necessary, has resulted in superbugs which are becoming resistant to traditional anti-bacterial products, like medical antibiotics. In fact, the Federal Drug Administration in the United States banned use of anti-bacterial components in certain products as a result. Stick to regular soap and simpler cleaners. 
Clean Less Often
In his book Dirt is Good: The Advantage of Germs for Your Child's Developing Immune System, the co-author, Jack Gilbert, explains that a little bit of dirt and germs in and around young children helps stimulate their immune system and encourages it to explore its surroundings. He suggests that increases in conditions like asthma and allergies in developed countries is related to over-protecting our children from the "elements" of the real world. Save yourself the time, money and stress of feeling like you always need to clean. A few germs and dirt in the playroom might just be the key to a strong immune system for your children.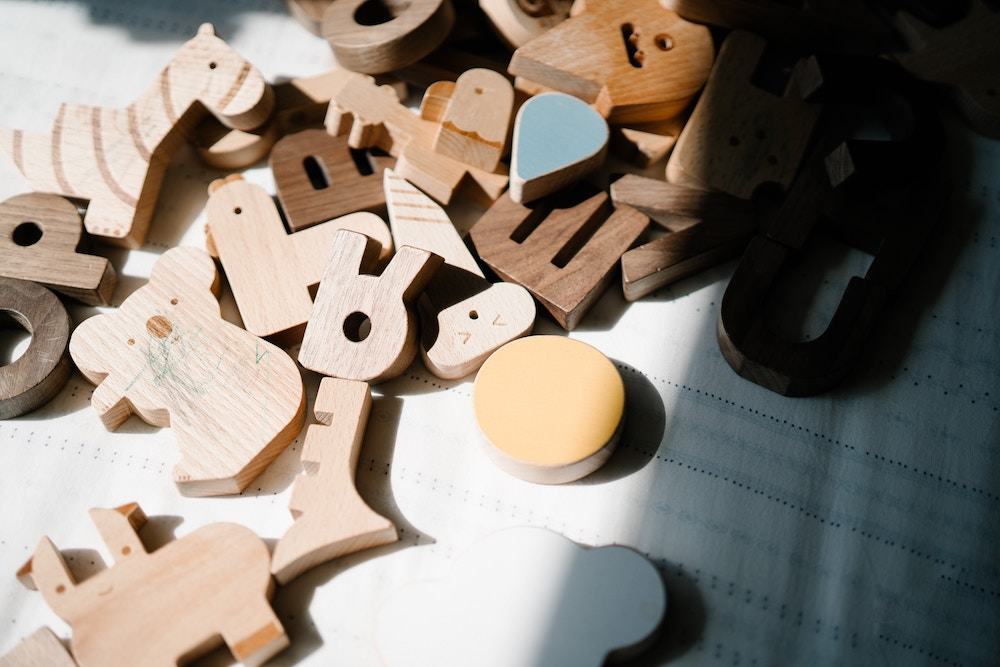 Picture by Tokyo Kohaku on Unsplash
With this guide, you're now fully equipped to fill your playroom (or your apartment) with sustainable and safe toys that are not only fun, but also benefit the environment and your kids' health. So, what are you waiting for? Start hunting for the perfect sustainable toys!
Interested in sustainability? Here are more posts and suggestions on this topic:
The links marked with an asterisk (*) are so-called "affiliate links". We receive a small commission if you buy something through them, which in turn helps us to continue developing the blog and creating even more useful and valuable content for you!
Leave a comment