April 24, 2023
childrens leggings
9 Best Organic Children's Leggings to Buy for Your Little One in 2023 
Finding comfortable and practical leggings for your little ones can be a daunting task, especially if you're searching for organic and eco-friendly options made with sustainable materials. The good news is that, if you know which brands to follow, finding organic children's wear is easy. Many brands offer stylish and comfortable gender-neutral kids' clothes and GOTS-certified clothing - that means their clothing is made in fair and safe conditions free from harmful chemicals.
Fortunately, we've done the leg work for you! We know you're short on time, so we've rounded up the very best organic kids' leggings available on the market today. From practical basics to bold prints, the children's leggings in the list below will keep your little ones comfortable and stylish all day long. 
Here´s the full list of the best organic childrens leggings
9 Best Organic Childrens´ Leggings for 2023 
Price: €25.90 (discounted when you buy more than 1 pair) 
Sizes: 1-2 years to 11-12 years 
Location: Designed in Germany, made in Portugal 
Materials: GOTS 95% organic cotton, 5% elastane 
These are definitely the softest leggings in your wardrobe! Orbasics Play-All-Day Leggings are the perfect children's leggings for all occasions, from playing with friends to running errands with their family. They are made with high-quality and buttery soft certified organic cotton jersey that will protect your child's skin from chemicals and irritants. The organic cotton leggings come in ten beautiful bold colors to mix and match with either unicolor sweatshirts or sweaters. The children's cotton leggings are stretchy enough to survive a growth spurt and are suitable for all genders.
These unisex, boys or girls leggings, are also made without side seams for ultimate comfort and breathability, using GOTS materials to avoid to irritate sensitive skin.
Shop Orbasics Play-All-Day Leggings

Price: £26
Sizes: 1-4 months to 9-11 years 
Location: Designed in Sweden, made in Portugal 
Materials: 95% TENCEL™ Lyocell, 5% elastane 
With the perfect blend of style and comfort, MINI RODINI Basic Leggings are made from soft, eco-friendly TENCEL Lyocell fabric with a touch of stretch, ensuring your child feels comfortable in every situation. Sustainably crafted from spruce and beech, these leggings are dyed and manufactured in a closed-loop system to minimize environmental impact.
Ideal for school and daily wear, the leggings provide the right amount of flair to elevate your child's outfit. These toddler cotton leggings come in a variety of sizes, ranging from 1 month to 11 years, and offer different styles such as black, brown with black hearts, and leopard print. The versatility of these leggings allows for easy mixing and matching, wearing perfectly with dresses, sweaters, and other wardrobe staples. These leggings will quickly become a go-to choice for both you and your child, thanks to their comfortable fit, trendy designs, and eco-conscious materials. The Perfect Outfit Addition for School and Play!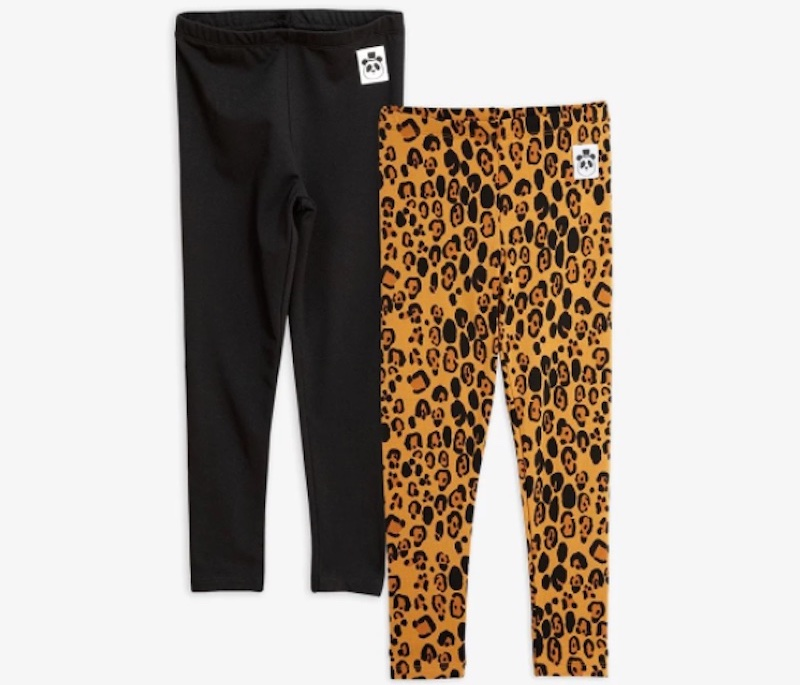 screenshot @ MIni Rodini
Price: €38
Sizes: 2-3 years to 12-13 years
Location: Designed in Spain, made in Spain and Portugal 
Materials: 95% organic cotton, 5% elastane 
Bobo Choses Printed Leggings come in bold prints, ideal for children (and parents) who love patterns. They are made from organic cotton and elastane, providing just the right amount of stretch. Sizes are available from 2 years to 13 years, and the description says they are available in two lengths, but this doesn't seem to be an option you can select during the checkout process. 
screenshot @ Bobo Choses
Price: £20 
Sizes: Newborn to 24 months 
Location: Designed in California, made in India 
Materials: 100% organic cotton 
L'ovedbaby Organic Leggings are well-reviewed and made with 100% organic cotton, which means they're kind to your baby's skin. Their leggings are designed for little tots, from ages 0 months to 24 months, and come in a small range of neutral colors, such as coral, lavender, eggplant, sage, and striped. Many sizes seem to be sold out, so you may need to be flexible about your color choice. 
Shop L'ovedbaby Organic Leggings
Price: £32
Sizes: 2 years to 12 years
Location: Designed in Texas, made in Lithuania, Bulgaria, and India 
Materials: 56% Tencel, 38% Merino Wool, 6% elastane 
Nui Organics Child Randi Leggings are practical and affordable. These classic fit leggings are stretchy, soft, and breathable. They are made from a merino Tencel blend and are exclusively available in a muted khaki color. Note they are not vegan. 
Shop Nui Organics Child Randi Leggings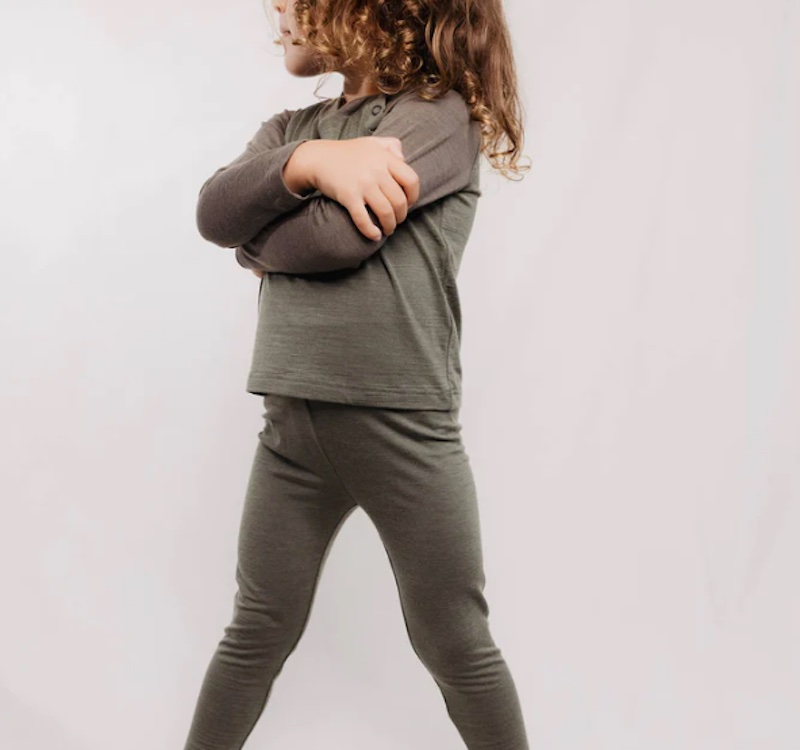 screenshot @ Nui Organics
Price: $20 
Sizes: 3 months to 5 years 
Location: Designed and made in California 
Materials: 100% organic cotton 
Olen Organic Stripe Leggings come in two striped colors (navy and yellow) and are made from soft organic pima cotton. Since they are 100% cotton, they recommend sizing up to account for some shrinking. 5% of all sales go to support the charity Every Mother Counts, so you can feel even better about your purchase.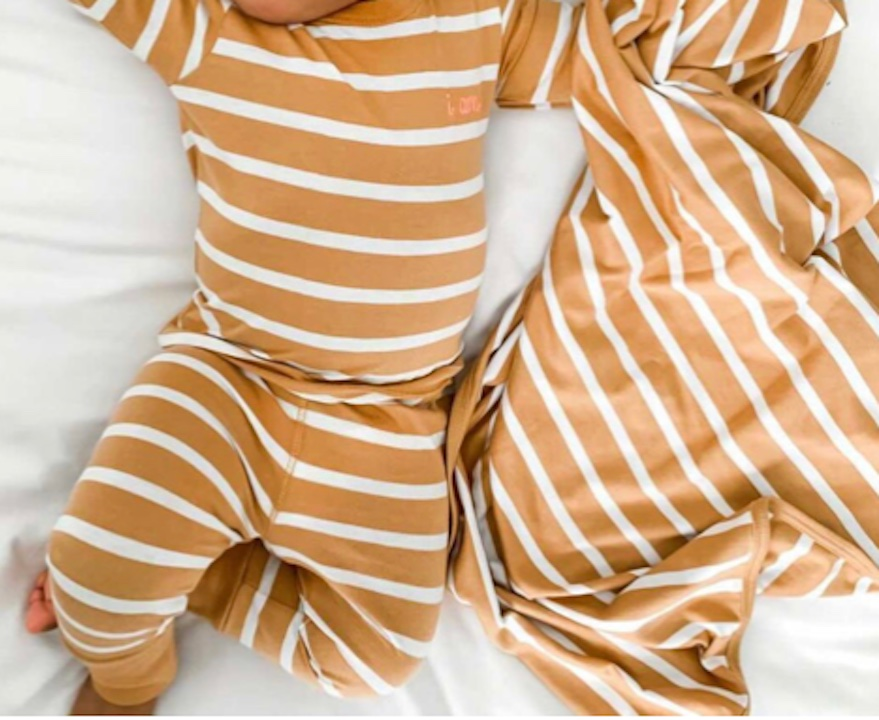 screenshot @ Olen Organic
Price: $24.50
Sizes: 0-3 months to 5 years 
Location: Designed and made in the USA
Materials: 95% Bamboo viscose, 5% spandex 
Tenth & Pine Bamboo Kids Leggings come in sizes 0-3 months to 5 years and a huge range of 15 colors. The bamboo viscose is soft, breathable, and provides a practical stretch. They have a fold-over waistband to avoid elastic at the top, which is ideal for children with sensitive skin. 
Shop Tenth & Pine Bamboo Kids Leggings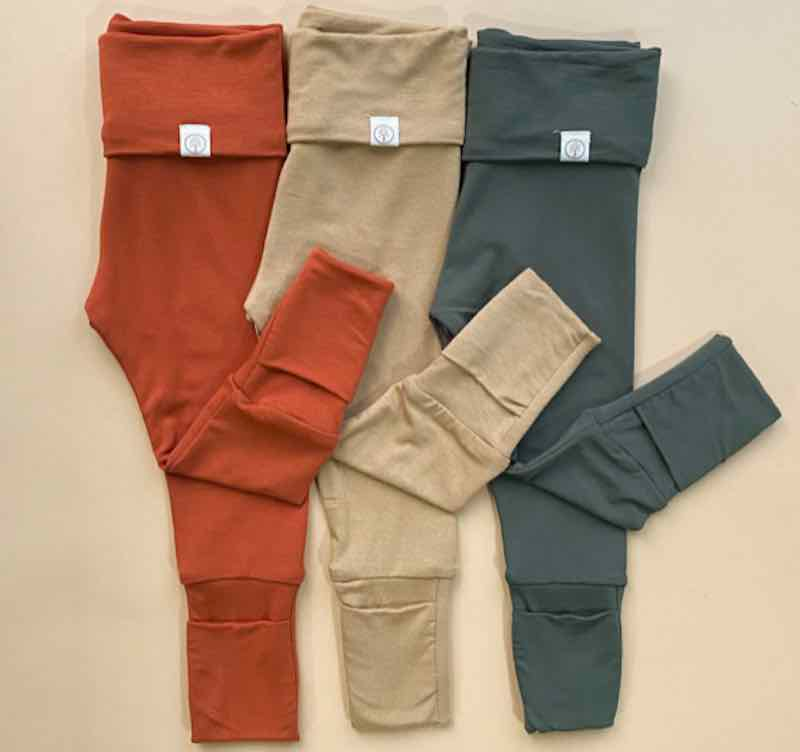 screenshot @ Tenth & Pine
Price: €33
Sizes: 2 years to 11 years 
Location: Designed in Denmark, made in India  
Materials: 100% organic cotton 
Discover the world of comfort and style with Serendipity Organics Rib Leggings, crafted with certified 100% organic cotton. These bottoms are perfect for keeping your little ones dressed comfortably and fashionably throughout the day. The mottled colors, including yellow, pink, and sage green, offer a fresh and vibrant touch to any outfit.
Available in sizes from 2 years to 11 years, these leggings cater to a wide range of ages. Opt for a slightly looser fit compared to other children's cotton leggings on the market, ensuring your child experiences great comfort all day long. The soft organic cotton material ensures breathability and easy movement, making these leggings ideal for daily wear and playtime.
Serendipity Organics Rib Leggings are a fantastic addition to your child's wardrobe, combining sustainable materials, trendy design, and ultimate comfort
Shop Serendipity Organics Rib Leggings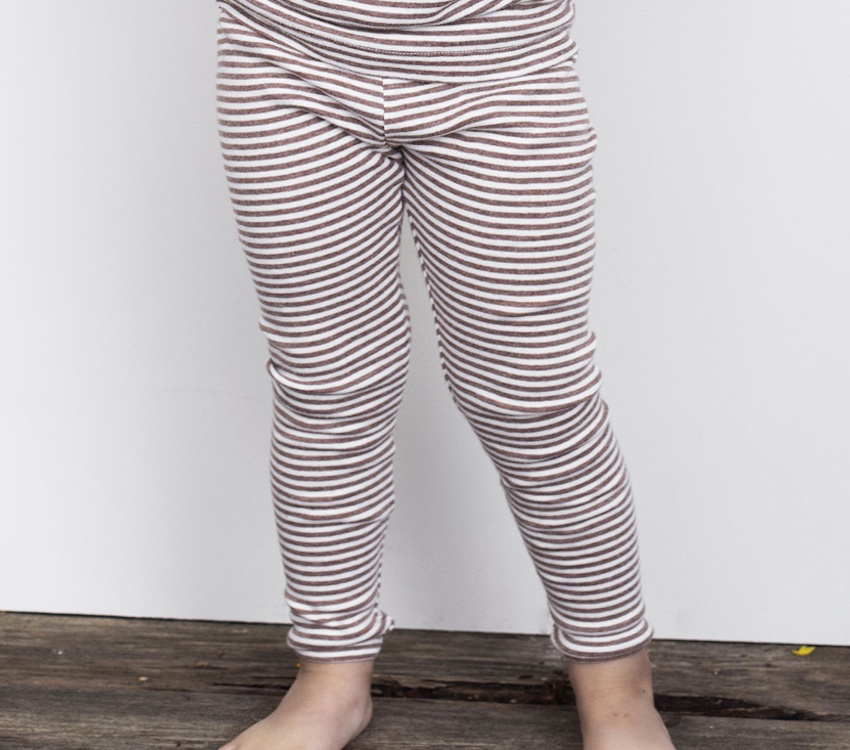 screenshot @ Serendipity
Price: €16.95 
Sizes: Newborn to 2-3 years 
Location: Designed in the UK, made in Turkey 
Materials: 30% organic cotton and 70% bamboo 
MORI Everyday Leggings are made from 30% cotton and 70% bamboo and come in six muted patterns. They are available in sizes 0 months to 3 years and designed to make dressing your little one each morning easy.
These were the best childrens labels for organic kids leggings
---
Is It ok for Boys to Wear Girls Leggings?
The answer is a resounding yes, as we move towards a world that celebrates self-expression and challenges the outdated gender stereotypes that have long dictated what we wear.
For centuries, societal norms have dictated what boys and girls should wear, with specific colors and styles assigned to each gender. However, these traditional norms are now being challenged, as people begin to recognize that clothing should not be limited by gender. Boys wearing girls leggings, and vice versa, can be seen as an expression of individuality and a step towards breaking gender stereotypes. Gender-neutral clothes can help in reducing the pressure to conform to specific gender roles and promote equality among all individuals.
Why is organic cotton clothing better for your child?
Organic cotton clothing offers numerous benefits for your child, from environmental sustainability to improved health and comfort.
Environmental Sustainability and Ethical Production
Unlike conventional cotton, organic cotton is grown without the use of harmful pesticides, synthetic fertilizers, or genetically modified organisms (GMOs). This eco-friendly approach reduces water pollution, protects biodiversity, and promotes healthier soil. Furthermore, organic cotton production often adheres to fair labor standards, ensuring workers receive fair wages and work in safe conditions.
Health Benefits: Reduced Exposure to Harmful Chemicals
Organic cotton clothing significantly reduces your child's exposure to harmful chemicals found in conventional cotton. As children have delicate skin and are more susceptible to allergies and irritation, choosing organic cotton can help prevent skin issues such as rashes, eczema, and allergic reactions.
Comfort and Durability: A Wise Investment
Organic cotton is not only safer for your child but also offers superior comfort and durability. Organic cotton fibers are softer and more breathable, making them perfect for your child's sensitive skin. Moreover, organic cotton clothing tends to last longer, maintaining its shape and color even after multiple washes.

Organic kids' leggings will provide your child with skin-kind clothes that are comfortable, breathable, and soft. Provided you choose organic children's wear that is GOTS-certified (as all of the above are!), they are just as kind to the environment, too. Whether you're looking for practical basics for your energetic kids or cool prints that will make them stand out in a crowd, the list of best children's leggings above will provide you with plenty to choose from. Start shopping our Play-All-Day bestselling leggings here. 
Leave a comment