March 17, 2023
eco friendly Bedding Brands
25 Best Non Toxic and Sustainable Bedding Brands for a Healthier Sleep
Are you on the lookout for the best organic bedding that ensures a healthy and restful sleep but is also produced sustainably? Then you've come to the right place! We've curated a list of the best sustainable bedding brands that use sustainable production methods and natural or even organic materials, so you can relax and sleep worry-free.
Because we all know that we spend about a third of our lives in bed and should therefore choose toxic free bedding that is gentle on our skin and respiratory system.
Here you will find high-quality & eco friendly bedding brands and the most beautiful organic bedding for restful nights
Here´s the full list of 25 Non Toxic and Sustainable Bedding Brands
---
Best organic Bedding Brands I U.K.
---
Best sustainable Bedding Labels I Europe
---
Best Sustanable Bedding Brands I USA
These are the Best Non Toxic and Sustainable Bedding Brands
Here are our top picks for best sustainable bedding labels in Europe, best sustainable and non toxic bedding brands in UK and the best sustainable bedding companies in the United States. We have selected these brands based on their materials, certifications, features, customer reviews, and overall reputation in the market.
Sustainable and Non Toxic Bedding Brands Europe
---
Pricing for Bedding Sets: 47 Euro - 100 Euro
Material: Cotton Satin, Linen
Location: Germany
Founded in 2019 with a mission to produce home textiles using durable, eco-friendly materials, the Textilwerk team works tirelessly to offer their customers bedding that is both functional and stylish.
Textilwerk values high-quality and durable products and achieves this through the use of premium materials. The company prioritizes sustainability and eco-friendly production methods to minimize environmental impact.
The bedding offers a variety of timeless designs that remain appealing for years to come, as well as colorful and artistic patterns that bring joy. Functionality is also an important aspect of their products. Textilwerk offers a wide range of home textiles, including bedding, pillows, eco-friendly bed sheets, towels and sustainable non toxic blankets, and also decorative textiles, all that with the same attention to high-quality and eco-friendly production.
Whether you're looking for intricate or simple designs, textilwerk has an enormous selection of high-quality bedding to choose from.
---
Pricing for organic bedding sets: 25 Euro - 310 Euro
Material: Cotton, Linen & Flanell
Location: Austria
Grüne Erde is a leading brand in the world of ecologically and socially responsible products. When it comes to bedding, Grüne Erde is a cut above the rest, offering a wide selection of natural bedding options made from organic cotton, linen, and flannel. What sets Grüne Erde apart from other bedding brands is the unwavering commitment to sustainability. The products are made with high-quality natural organic fibers sourced from certified organic farming, which guarantees that their products are safe for the environment and for consumers, meaning they are also naturally hypoallergenic.
The bedding is made in Europe under fair working conditions, with employees receiving fair wages and working in safe and just environments. With Grüne Erde bedding, you can sleep soundly knowing that you are supporting ethical and sustainable practices.
At the end of the day, Grüne Erde bedding is an exceptional choice that offers a perfect balance of sustainability, quality, design, comfort, and satisfaction. Whether you're looking for a cozy flannel duvet cover or a luxurious linen sheet set, Grüne Erde has got you covered. Sleep well, live well, and feel good knowing that you're making a responsible choice with Grüne Erde.
---
photo
© noca
Pricing for sustainable bedding set: from 99 Euro
Material: GOTS-certified organic cotton, including jersey, and cotton satin. The button closures are made from boxwood
Location: Germany
noca is sustainable and vegan bedding made from 100% GOTS-certified organic cotton, produced under fair conditions in western Turkey. noca creates an eco-balance for the entire life cycle of their products to reduce emissions and this their carbon footprint. The packaging is plastic-free, and for every product purchased, seven trees are planted. The timeless design in different colors includes a button or hotel closure. noca is a young company committed to a safe ecological future and offers a range of sustainable bed sheets suitable for every taste, lovingly soft to your skin, reflecting its higher price range due to climate-positive and fair production.
---
photo
© studio feder
Pricing for organic bedding set: 54 Euro - 200 Euro
Material: GOTS certified cotton
Location: Denmark
Studio Feder, a Danish brand, values natural, aesthetic design with a focus on high-quality fabrics and carefully selected materials. Sustainability is a priority for the brand, as it also uses environmentally friendly materials for shipping. Studio Feder's range includes bedding sets for all ages, with matching sleep masks and pajamas available. Each product is designed with attention to detail and produced in limited quantities, making them exclusive. In summary, Studio Feder offers sustainable and high-quality design with an aesthetic and harmonious color concept that is both contemporary and timeless.
---
Pricing: 50 Euro - 300 Euro
Material: Cotton, Linen, Lyocell, Hemp
Location: Germany
Urbanara is a German brand that specializes in home textiles, offering a wide selection of sustainable bedding products made from natural materials such as cotton, linen and hemp. The brand emphasizes the importance of quality, durability, and sustainability and produces its products in Europe.
Urbanara's bedding products are made from carefully selected materials, ensuring they maintain their appearance after numerous washes. The brand also offers a broad range of organic cotton bedding, reducing the environmental impact of bedding production.
Urbanara's bedding collection caters to all seasons and is available in a variety of colors and designs that are both practical and aesthetically pleasing. The brand's direct-to-consumer business model enables it to offer high-quality bedding at a reasonable price. Although Urbanara's prices are in the mid-to-high range, they are justified by the brand's use of high-quality materials and fair production practices.
---
Pricing: 140 Euro - 190 Euro
Material: Linen
Location: Germany
Atisan is a brand that offers sustainable non toxic sheets made from 100% linen in simple and light natural colors. The brand focuses on the fair production of sustainable and fair home textiles, ensuring that the natural materials used come exclusively from countries where their raw materials are originally found.
By purchasing directly from the manufacturer, Atisan is able to offer its products at a lower or fair price. Linen bedding ensures a comfortable sleeping climate all year round, and Atisan's bedding is a long-term investment in a healthy restful sleep. With timeless designs in light and natural colors, Atisan's bedding fits effortlessly into any bedroom and offers a skin-friendly feel that is simply indescribable. If you are looking for high-quality and sustainable bedding that invites you to dream, Atisan is definitely worth trying.
---
Pricing for bedding sets: 110 Euro - 300 Euro
Material: Cotton, Flanell and Linen
Location: the Netherlands
Yumeko, a sustainable label from the Netherlands, offers a range of high-quality bedding and bath textiles that are free from fossil fuels and has GOTS and Fair Trade certifications. The products are sustainably produced and fair trade, so you can indulge in a sweet night's sleep without compromising your conscience.
Yumeko's organic bedding is particularly soft and breathable, made from GOTS-certified or fair trade certified cotton and other organic fabrics without any toxic chemicals or pesticides. The bedding comes in various sizes and colors with a simple and timeless design, and the company also offers bedding made from other sustainable materials like lyocell, bamboo, and linen.
Yumeko is transparent about the origin and production of its materials and has received several awards and certifications that confirm its sustainable approach. Treat yourself to a sustainable and restful night's sleep by purchasing from Yumeko.
---
photo
© Mary Rose
Pricing forSets : 30 Euro - 170 Euro
Material: Cotton, cotton satin, and linen
Location: Austria
Mary Rose offers a wide variety of beautiful and sustainable eco bedding made from high-quality natural materials using no harmful chemicals, that promise to deliver the ultimate sleeping experience. Their bedding collection includes a range of colors and patterns to cater to everyone's individual style and taste. Mary Rose produces climate-neutral cotton bedding in line with the cradle-to-cradle principle and is certified by GOTS, ensuring that their products are biodegradable and free of harmful substances.
The company is a proud member of the Fair Wear Foundation, committed to promoting fair working conditions across their supply chain. Mary Rose's organic bedding, made from high-quality natural materials like 100% organic cotton, is luxuriously soft and cozy, helping to promote restful sleep. Customers can choose from a selection of bedding sets or create their own sets by mixing and matching different solid-color covers.
With prices ranging from about 30 to 170 euros, Mary Rose's online shop offers a broad selection of sizes and colors to cater to everyone's bedding needs. Invest in Mary Rose's sustainable and stylish bedding for good night's sleep in style.
---
Pricing: 125 Euro - 235 Euro
Material: Organic cotton
Location: Germany
Erlich Textil is a sustainable underwear brand that also offers high-quality bedding and home textiles with a focus on quality, sustainability, and timeless design. Their bedding is made from 100% organic cotton, produced in Europe to ensure a skin-friendly and environmentally-friendly experience.
The bedding is beautiful and durable, with each set being handmade and crafted with attention to detail. Being soft, breathable and comfortable on the skin, the bedding ensures a restful sleep. With a variety of colors and sizes available, Erlich Textil offers something for every taste and need. Investing in Erlich Textil bedding sets is a smart choice for those looking to bring sustainability to their bed.
---
Sustainable and Eco Friendly Bedding Brands in UK
Pricing: starting at £35
Material: Organic cotton, cotton sateen, percale cotton
Location: UK
The Fine Cotton Company is a luxury bedding brand based in the UK, offering a range of high-quality, sustainable bed linen made from 100% certified organic cotton. The luxurious bedding is crafted from the finest long-staple cotton, which creates a soft, smooth, and breathable fabric that gets softer with every wash. Fine Cotton Company's range of bedding includes organic cotton sheet, duvet covers, pillowcases, and shams, in a variety of sizes and colors. They are committed to ethical and eco-friendly practices and offer a range of products designed to create a boutique hotel feeling at home.
---
Pricing: starting at £80
Material: Organic Cotton 
Location: UK
Sleep Organic offers a range of natural and organic products designed to help you sleep soundly and wake up feeling refreshed. From luxurious sheets to cozy duvets and comforters, Sleep Organic has everything you need to create the perfect sleep sanctuary. With many award-winning, fairtrade organic cotton bedding options available, you'll surely find the perfect set to suit your style and comfort preferences
But that's not all – if you have little ones, you'll be thrilled to know that there are also amazing options for organic kids' bedding! These non toxic sheets are soft and comfortable and made with certified organic and Fair Trade cotton, using no harsh chemicals!
---
Pricing: starting at £17
Material: Organic cotton
Location: UK
Green Fibers is a thoughtful company that has been a leader in the organic textile market for over 25 years, offering customers a personal, dedicated service and high-quality, organic and natural products and a wide variety of bedding options crafted from GOTS certified organic cotton, all made under fair and safe working conditions. From organic cotton jersey fitted sheets to pillowcases, duvets, and everything in between, Green Fibers has got you covered when it comes to sustainable and non toxic bedding.
One of Green Fibers' bestselling ranges is their Classic Organic Cotton Bedding. This range features a rustic, linen-like feel and is made from a strong, heavy, and durable 100% organic cotton fabric that softens over time with use and washing. The bedding is undyed and unbleached, allowing the beautiful off-white color of the organic cotton to shine through, with subtle naturally occurring flecks.
In summary, Green Fibers is a fantastic choice for anyone looking for the best organic cotton sheet sets in the UK, as well as a range of other sustainable and ethical products.
---
Pricing: starting at £126
Material: Organic cotton
Location: UK
UK-based company that provides luxurious non toxic bed linen, pajamas, baby clothes, bathrobes, and handkerchiefs made from the purest and best-certified organic cotton, sourced with the highest ethical and environmental standards.
The luxurious and eco-friendly organic cotton bedding are GOTS and UK Soil Association certified, pesticide-free, and made with sustainability in mind. One of LittleLeaf Organic's bestsellers is their 100% organic cotton bedding, which is available in all sizes up to Superking. The bedding is crafted with a silky smoothness and has a 300 thread count, providing ultimate comfort for a blissful night's sleep. What sets LittleLeaf Organic apart is their commitment to using no harsh pesticides or chemicals in their products, making them an excellent choice for those looking for a healthier and sustainable option. LittleLeaf Organic offers bedding in a variety of beautiful and natural colors, perfect for any bedroom decor!
---
Sustainable and Non Toxic Bedding Brands I USA
Pricing: starting at 200 USD
Material: Linen, Organic cotton
Location: USA
Looma Home offers a luxurious range of bedding made from the softest and highest quality organic cotton, with a commitment to ethical and sustainable practices. The signature and best organic sheets set, French linen bedding bundle, and organic flannel sheet set are among their bestsellers, praised for their heavenly softness and durability
What sets Looma apart is the dedication to making a positive impact. They source their cotton directly from local farmers in the Himalayan basin of Northern India. Denver Rayburn and Ishaan Jalan, the founders of Looma Home, created the brand with the goal of not only making the softest and coziest bedding but doing so with the highest ethical and sustainability standards.
---
Pricing: starting at 240 USD
Material: Linen, Organic cotton
Location: USA
The Citizenry is a direct-to-consumer home goods retailer that partners with artisans from all over the world to create handmade products from local materials. Their bedding collection is a standout in the market, offering high-end sheet sets that are luxurious and durable.
The Organic Turkish Cotton and Stonewashed Linen sheet sets are two of the most popular options. The Organic Turkish Cotton set is made from 100% long-staple Turkish cotton and features a percale weave that creates a crisp, cool feel. The Stonewashed Linen set, on the other hand, is made from 100% French flax linen and features a relaxed, casual look that's perfect for any bedroom.
The linen sheets are known to get softer with each wash, and their cotton sheets are designed to stay cool and crisp even after multiple washings. Plus with a range of colors and patterns to choose from, there's something to suit every taste and style!
---
Pricing: starting at 200 USD
Material: Linen, Organic cotton
Location: USA
Madder Home is a bedding brand that offers percale sheet sets and duvet cover sets made from organic cotton grown in Texas and sewn by a family-run mill in Georgia. The brand prides itself on using responsible sourcing and plant-based dyes to create bedding that is soft on your skin and gentle on the planet.
One of Madder Home's bestsellers is the Rose Madder Sustainable Sheets Set, which comes in a beautiful soft pink hue and is made from 100% organic cotton. The Marbled Madder Sheet Set is another popular option, featuring a unique marbled pattern that adds a touch of visual interest to any bedroom.
The brand uses only organic cotton that is free of toxic chemicals, bleach, or dyes, ensuring that your bedding is safe for you and the environment. Additionally, Madder Home's plant-based dyes are gentle on the skin and provide a unique range of colors that are not found in traditional dyeing processes.
With a focus on responsible sourcing and ethical production, Madder Home is a brand you can feel good about supporting
---
Pricing: starting at 95 USD
Material: Organic cotton, Tencel, Hemp, Wool, Bamboo
Location: USA
Made Trade offers a collection of sustainable bedding made from natural and eco-friendly materials like bamboo, wool, and organic cotton that are biodegradable, hypoallergenic, and provide ultimate comfort for an ethical and eco-conscious bedroom.
One of the bestsellers is the Linen Bedding Set, starting at $261. Made from soft and breathable French linen, this bedding set is perfect for warm weather and can last for years. The brand also offers a variety of other bedding options, such as Hemp Sheet Set and Eucalyptus Duvet Insert, all of which are made with high-quality materials and sustainable practices.
Made Trade are also proud to be a woman-owned, family-run small business that offsets 100% of their carbon emissions from shipping through carbon-neutral shipping.
In addition to bedding, Made Trade also offers a variety of sustainable home goods, including baskets, towels, and throw pillows. Whether you're looking for a complete bedding set or just a few home accents, Made Trade is an excellent choice for anyone who wants to create a more sustainable and ethical home.
---
Pricing: starting at 640 USD
Material: Organic cotton, Linen
Location: USA
Lola & Veranda is a high-end home bedding and textiles brand tailored for the modern and discerning consumer, placing the earth's well-being at the forefront while enhancing sleep quality. With a commitment to zero waste in sustainability and manufacturing, Lola & Veranda's 100% organic long-stem cotton bedding, certified by GOTS, caters to luxury dreamers while honoring the planet. In a world filled with beauty, chaos, and unexpected twists, Lola & Veranda invites individuals to find joy in daily rituals, weaving contentment and care one thread at a time.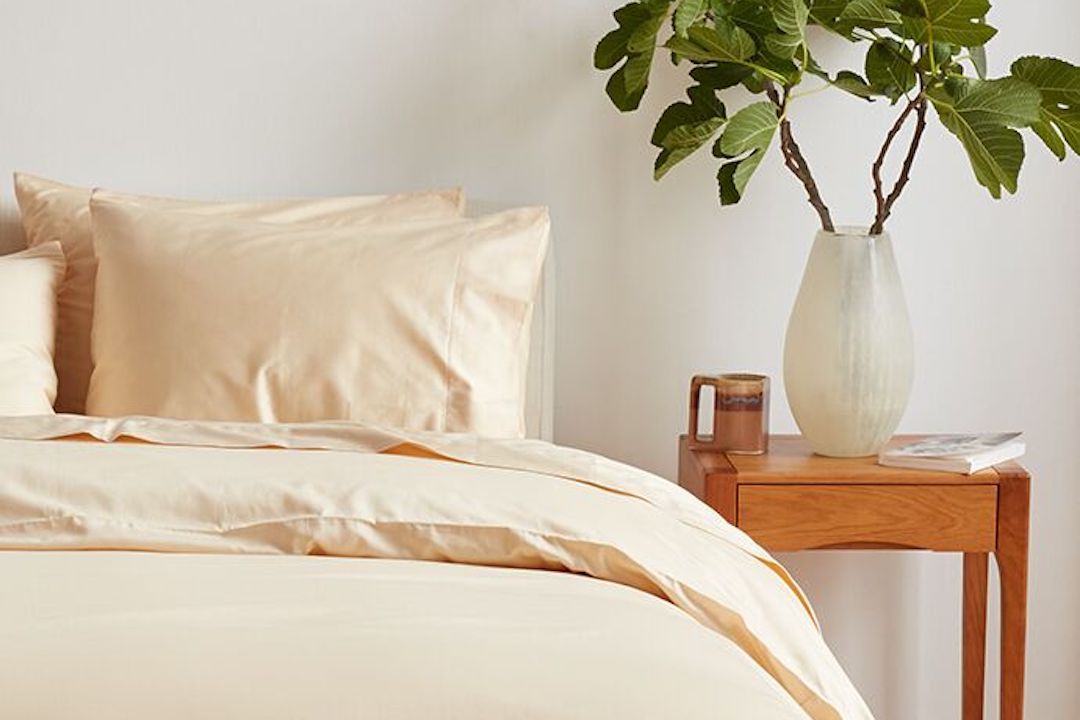 image @ Lola &Veranda
Pricing Sets: starting at 138 USD
Material: Organic cotton
Location: USA
Homebird offers luxurious and ethically made bedding and bath products, perfect for those seeking comfort and sustainability. The brand's 100% certified organic bedding sets come in a range of solid, piped-edged, and reversible color options, complete with inside ties to keep your duvet in place. Homebird is committed to providing high-quality products made with organic and Fairtrade cotton, ensuring that their customers can feel good about what they bring home.
One of Homebird's bestsellers is their buttery-soft bedding set, which provides ultimate comfort while being eco-friendly and sustainable. Homebird's products are perfect for those who appreciate the finer things in life while also caring about the environment and ethical production practices.
---
Pricing Sets: starting at 278 USD
Material: Organic cotton
Location: USA
Coyuchi is a brand that has earned a loyal following thanks to their signature bedding and bath linens made from 100% certified organic cotton.
If you're looking for the best of the best, Coyuchi's organic sheets, blankets, and duvets are top sellers These products build the ultimate organic bed, while their organic towels and robes will turn any bathroom into a luxurious spa retreat.
One of Coyuchi's standout products is their Diamond-Stitched Organic Cotton Comforter. Reviewers rave about how versatile and comfortable it is, with no overheating or night sweating. It's perfect for temperate climates and even on those rare super-hot days, it's still not too heavy.
So, if you're looking for luxurious, eco-friendly bedding and bath linens, Coyuchi is the brand for you.
Pricing Sets: starting at 285 USD
Material: Organic cotton
Location: USA
PACT is a leading brand in sustainable and ethical fashion and home goods made with organic cotton. The bedding line is super soft, comfortable, and environmentally friendly. The company partners with certified Fair Trade factories, guaranteeing a living wage and safe working conditions for their workers.
PACT stands out from the crowd for their top-selling Organic Cotton Bedding Set and Super Soft Jersey Sheet Set, both crafted with 100% GOTS-certified organic cotton. Unlike conventional cotton, this organic cotton is free from genetically modified organisms and harmful chemicals, ensuring a healthier and safer sleeping experience.
Explore the range of bedding sets in various sizes and colors to transform your sleep space into a sustainable and healthy haven!
---
Pricing Sets: starting at 110 USD
Material: TENCEL™ Lyocell, Linen, organic cotton
Location: USA
Sijo is a bedding brand that's making waves in the market with its unique approach to sleep goods. They offer a range of bedding made from natural and innovative materials that are scientifically engineered for cooling and comfort. One of their best-selling products is the AiryWeight Eucalyptus Sheet Set, made from cooling eucalyptus fibers that are perfect for hot sleepers.
Sijo is also known for its Clima™ Tech + Supima Cooling Bedding, which is designed to regulate temperature and keep you comfortable all year round. The TempTune™ Supima Cotton Temperature Regulating Bedding is soft yet hotel-crisp, warm when you're cold, cool when you're hot, and available in four staple neutrals.
Sijo use eco-friendly materials like eucalyptus, linen, and organic cotton, and all of their products are ethically made. The products are designed to last, so you can sleep soundly knowing you're making a conscious choice for the planet.
---
Pricing Sets: starting at 149 USD
Material: organic cotton
Location: USA
Parachute Home is a renowned brand that offers premium bedding products made from GOTS certified organic cotton using no harmful chemicals or synthetic materials.. Their bedding is designed to deliver the ultimate level of comfort and luxury, with a soft and lived-in finish that feels like nothing else on earth!
The bestsellers include their percale, sateen, and linen sheet sets, as well as the down alternative duvet inserts.
Overall, Parachute Home is a fantastic choice for anyone looking for high-quality, sustainable bedding that delivers on both style and comfort. Their commitment to eco-friendly practices and premium materials makes them a brand worth investing in for a great night's sleep.
---
Pricing: starting at 166 USD
Material: Organic cotton
Location: USA
If you're looking for luxurious ethical bedding, SOL Organics is a great option to consider. Their bedding is made from ultra-soft long-staple cotton that is 100% certified organic, ensuring that you're sleeping on high-quality and sustainable materials. Plus, the bedding is hypoallergenic, making it a great option for those with sensitive skin.
One of their best-selling products is the Sateen Cotton Sheets, which are perfect for snuggling into bed during the cold winter months. The buttery-smooth weave of these sheets provides a comfortable and cozy sleeping experience, and the plain and simple design gives them a clean look with no extra stitching. 
15% off sitewide at Solorganix.com with code BETTERSLEEP15!
---
These were 25 brands für non toxic sustainable bedding
What type of bedding is best for a healthy sleep?
Your bed should be a sanctuary of rest and relaxation, and choosing the right bedding is essential for achieving a healthy and rejuvenating sleep.
For the best sleep, it's recommended to choose organic high quality bedding made from natural, breathable, and hypoallergenic materials like organic cotton, bamboo, linen, or silk. These materials have the ability to regulate temperature and wick moisture away from the body, promoting a comfortable and refreshing sleep experience.
But..
How to recognize sustainable and high quality bedding?
Searching for sustainable and high-quality bedding can feel overwhelming. It's like wandering in a maze of options, unsure of which path will lead to the ultimate comfort and durability. However, fear not, for we have compiled a list of expert tips to assist you in making an informed decision.
Sustainable Materials - What is the best bedding material to buy?
First and foremost, when searching for bedding, prioritize natural materials. Bedding made from natural fibers such as cotton (organic), silk, hemp, bamboo, or linen is a smart choice. These sustainable materials are excellent at absorbing moisture and regulating temperature, providing you with a comfortable and restful night's sleep. Of these materials, cotton is the most popular choice due to its durability, breathability, softness, and ease of care. It's also typically more affordable than linen, bamboo, or other natural fabrics.
In contrast, synthetic materials like polyester can exacerbate nighttime sweating and are often less breathable. Not to mention, synthetic materials (made from petroleum) pose significant environmental problems and contribute to climate change.
So, choose bedding made from natural materials, not only for your own comfort and well-being, but also for the sake of our planet. By doing so, you'll be doing your part in promoting sustainable and eco-friendly living.
Organic certifications - Is organic bedding better?
Be sure to choose bedding made from ecological and sustainable materials, such as organic cotton. When bedding is grown using controlled organic farming methods, you can be confident that no harmful chemicals or fertilizers were used. In contrast to conventional bedding, which may contain harmful ingredients like formaldehyde, azo dyes, aldicarb, and parathion, organic bed linens are made using natural plant-based dyes and safe sateen or percale finishes.
Therefore, don't just look for bedding made from natural materials, but also ensure that they are sourced from controlled organic farming. Certifications such as GOTS, IVN, or Fairtrade can help you find responsibly produced organic bedding.
By choosing bedding made from organic and sustainable materials, you are benefiting your health but also supporting environmentally friendly and socially responsible practices.
Quality - what bedding lasts the longest?
Investing in high-quality bedding is not only beneficial for a comfortable and restful sleep, but it also ensures longevity and durability. When it comes to choosing bedding that will stand the test of time, there are a few factors to consider.
Firstly, look for bedding made from high-quality materials such as long-staple cotton or linen. These materials are more resistant to wear and tear and have a longer lifespan than lower quality fabrics.

Additionally, consider the weave of the bedding. Sateen weaves, for example, have a smoother and silkier texture, but may not be as durable as percale weaves, which have a crisper and more breathable feel.

Thread count is the number of threads woven into one square inch of fabric, and it's easy to get caught up in the belief that the higher the thread count, the better the bedding. However, it's important to note that a high thread count doesn't necessarily equate to quality or comfort.

While a high thread count may provide a softer and more luxurious feel, it's not the be-all and end-all of bedding quality. Instead, focus on finding bedding made from organic materials with a thread count between 200-400. This range provides the perfect balance of durability, breathability, and softness, ensuring a comfortable and restful sleep.

Lastly, pay attention to the construction of the bedding. Look for bedding with reinforced seams and high-quality stitching to ensure that it can withstand frequent washing and everyday use.
Investing in durable and long-lasting bedding not only saves you money in the long run, but it also ensures that you can enjoy the comfort and luxury of your bedding for years to come.
The Cost of Organic Bedding: Is organic bedding worth it?
While it may be tempting to opt for cheaper bedding options, the benefits of organic bedding are undeniable.
Organic bedding is made from materials that are grown without the use of harmful pesticides and chemicals, making it better for both the environment and your health. Free from harmful toxins it is also softer and more comfortable and also more durable than traditional bedding options.
Although the initial cost may be higher, investing in organic bedding can actually save you money and health issues in the long run. Its durability and longevity mean that you won't need to replace it as often, and its high-quality materials will ensure a good night's sleep for years to come.
When it comes to your health and well-being, choosing organic bedding is a small but significant step you can take towards a healthier and more sustainable lifestyle. So why not make the switch to organic bedding today? Your health and the environment will thank you.
Leave a comment