Best 7 Natural Baby Care Products for Sensitive Baby Skin: Organic and Non-Toxic
Why Natural Baby Care is Crucial for Your Baby's Sensitive Skin
Du hast das schönste Geschenk der Welt erhalten: Ein Baby, das du hegen und pflegen kannst. Und You've received the most beautiful gift in the world: a baby to cherish and nurture. And as you gaze upon your little bundle of joy, your eyes fall on their skin - soft, pure, perfect. But wait...is that a small rash you spot? Is the hot weather making their skin dry? Suddenly, you realize just how sensitive your baby's skin is and the importance of finding the best baby care and best baby care products for it.
Unveil the Best Baby Care Products for Healthy Baby Skin - Your Child Deserves the Best!
Why are Natural and Best Baby Care Products So Important?
A baby's skin is delicate and sensitive. It can easily be irritated by harsh chemicals, fragrances, and dyes found in many conventional care products, which can trigger allergic reactions in some babies. That's why your baby's skin needs special attention and gentle, natural - the best baby care.
Natural baby care products are free from harmful chemicals and instead utilize gentle ingredients from nature to nourish, protect and soothe skin. They are typically hypoallergenic and gentle enough for daily use. And the best part? They're good not only for your baby but for the planet too!
But how can you know which products are the right choice for your baby? Which brands offer the safest, most effective, and natural baby care products?
No worries, we're here to help. Our goal in this article is to inform you about the best brands for natural baby care and help you find the perfect care for your baby's sensitive skin. Let's dive in!
Are you ready to discover the list? So, what are the best baby care products?

Top 7 Brands for the Best Baby Care
The Best Brands for Natural Baby Care
In putting together our top list of brands for natural baby care, we considered factors such as ingredients, skin-friendliness, and sustainability. We not only focused on the ingredients and skin-friendliness but also the brands' commitment to sustainability and their popularity among parents.
1. Weleda: The Pioneers of Natural Cosmetics
Weleda is a true titan in the world of natural cosmetics. Founded in 1921, the company focuses on holistic, natural care.
An absolute favorite among parents is the Weleda Calendula Babycreme*. The Weleda diaper rash cream is perfect for sensitive baby skin and keeps it soft and protected. You can buy Weleda products in most pharmacies, drug stores, and online. 

Image @Weleda
2. Boep: One Baby, One Dream
Boep was brought to life by a mother (and doctor!) who wanted natural skin care products for her own baby.
A top product is the Boep Baby Cream* – 100% natural, vegan, and perfectly suitable for sensitive skin. Thei products are available online and in selected stores. What better endorsement for a baby care brand than being founded by someone who's not only a parent but also a medical professional? It doesn't get more personal and caring than this.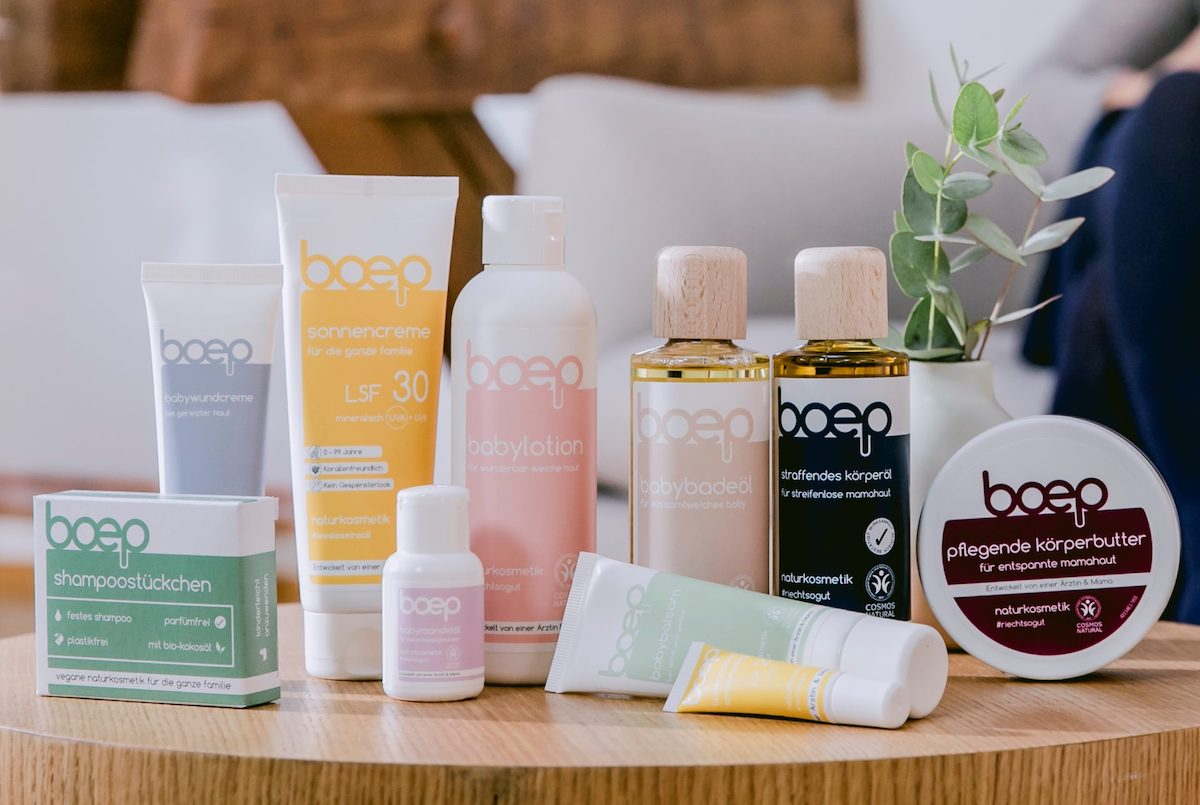 Image @Boep
3.
Earth mama organics
: Mother Nature's Helping Hand
Earth Mama Organics takes baby skin care to the next level with products that are not just gentle, but packed full of nature's finest. The products are fragrance free and paraben free, using no harsh sulfates, mineral oil or phthalates. Earth Mama Organics believes in harnessing the power of organic ingredients like shea butter, jojoba seed oil, and calendula flower extract.
Their iconic Organic Diaper Balm is a must-have for all parents. It soothes tender baby bottoms and doubles as a multi-purpose skin salve. Talk about a versatile superhero in your baby care arsenal!
The range doesn't stop there though. They've got the natural best baby lotion for eczema, a gentle Castile baby wash, a calming lavender lotion, a protective face, nose, and cheek balm, nourishing baby oil, and an SPF 40 baby sunscreen to shield your little one from the sun's rays.
Why Trust Earth Mama Organics
Each product in their certified organic baby skincare line adheres to either the National Organic Program (NOP) or the NSF/ANSI 305 organic standards set by Oregon Tilth. If an organic option isn't available, Earth Mama ensures it's safe, because when it comes to your baby, they believe there should be no compromises.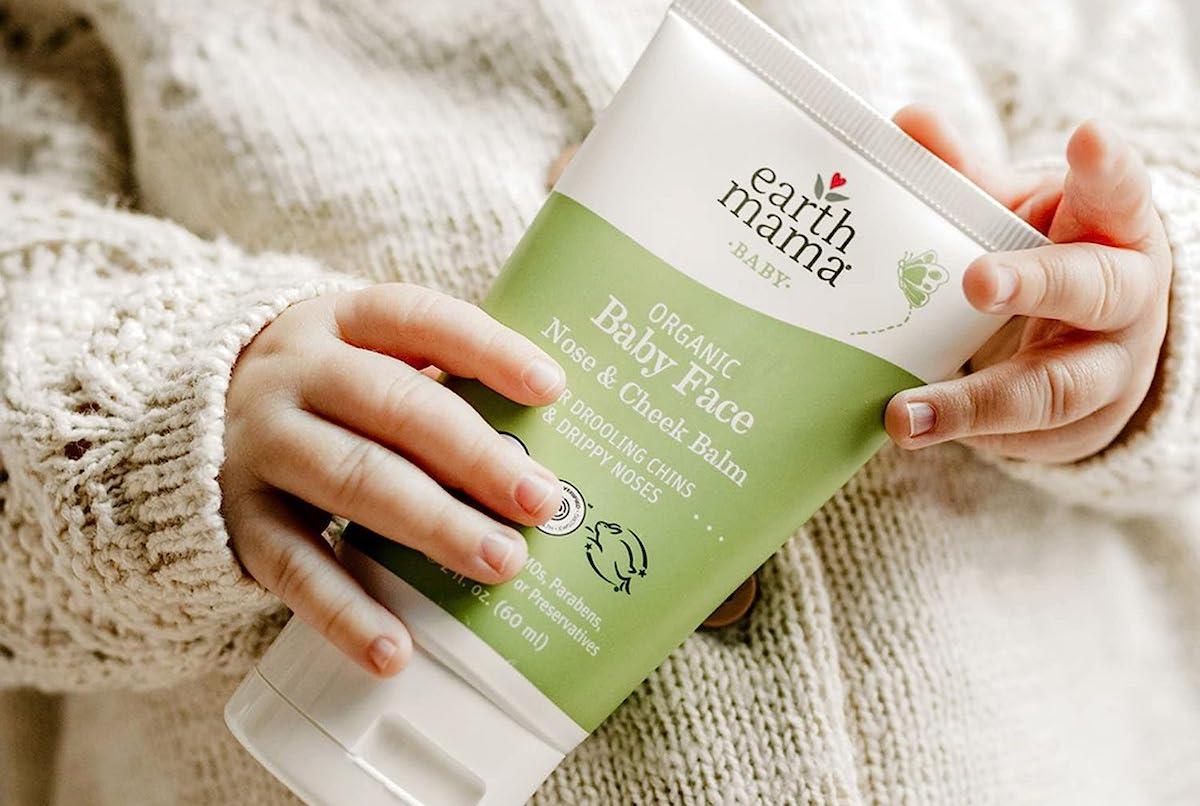 Image @ Earth Mama Organics
4.
Honest Baby:
Honest Ingredients, Honest Care
At Honest it's all about natural, safe ingredients and sustainable practices. The Honest Company whips up some stellar, dermatologist-tested, plant-based wipes. Infused with cucumber and flower extract, these wipes are like a mini spa treatment for your baby's butt. The cucumber cools and soothes, while the flower extract leaves a soft, fresh scent. In short, The Honest Company's baby line is all about giving you products you can trust.

5. Burt's Bees Baby Bee: The buzz-worthy natural care for your baby
Each product from the Baby Bee line is as gentle as a caress from a cotton ball. How do we know this? They've all been tested and given the green light by pediatricians.
Burt's Bees Baby Bee is completely free from all those scary-sounding stuff like parabens and phthalates. This line has been showered with glowing reviews. If you're looking for natural, gentle care that both you and your baby can enjoy, Burt's Bees Baby Bee is the buzz you've been waiting for.
6. Alma: Gentle Baby Care Straight from Vienna
Say hello to Alma, a rising star in the baby care world, hailing straight from the heart of Vienna. With a mission to provide gentle and sustainable baby care, this brand is quickly earning its place in the hearts of parents and babies alike. One of their flagship products is the Alma Baby Balm. This isn't your everyday balm, mind you. It nurtures your baby's delicate skin with a blend of valuable oils, making it a true must-have. Consider it the secret weapon in your baby care arsenal - here to keep your little one's skin soft, smooth, and super comfy.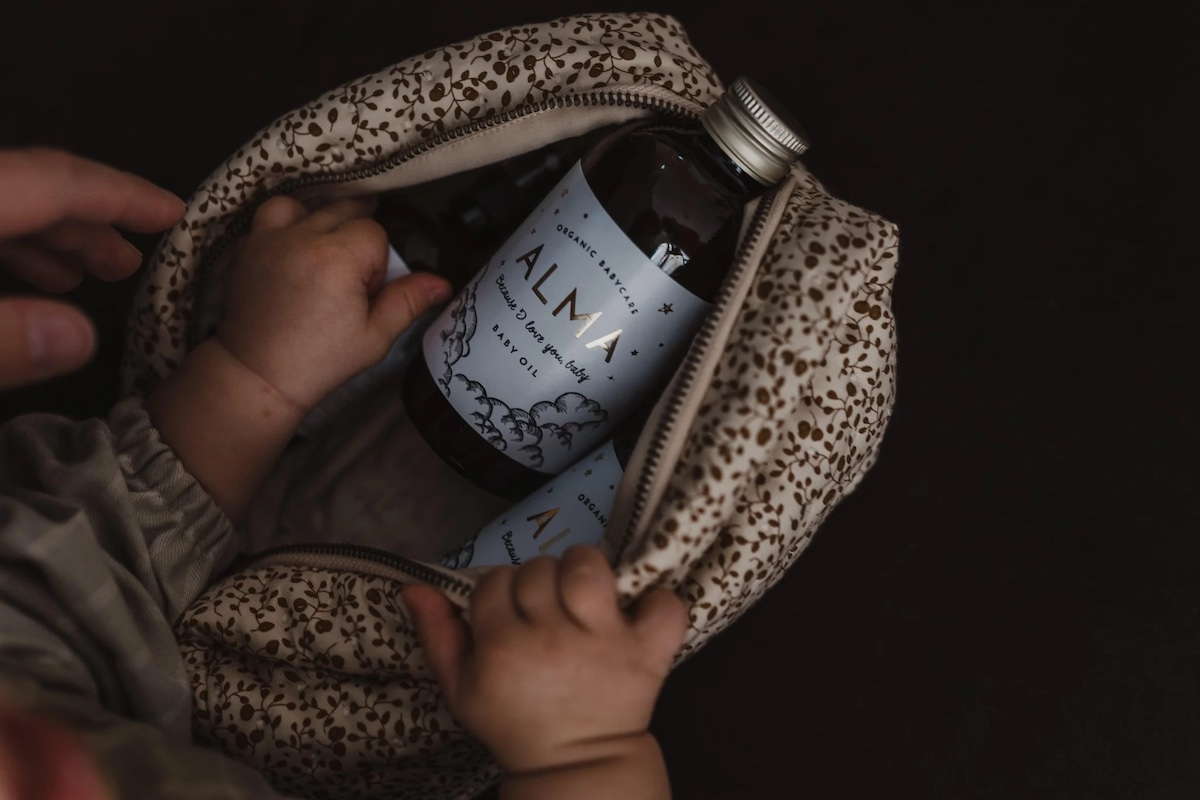 Image @Alma
7. Kenko Skincare: For those precious motherhood moments
Unleash the zen mama within you with Kenko Skincare! Designed with both pregnant moms and newborns in mind, this brand is all about embracing those precious moments of motherhood with natural, nurturing skincare.
What's the secret sauce? It's all in the natural and organic oils they use. These aren't just any oils. They're handpicked for their gentle and pure properties, perfect for taking care of your little one's skin without the harshness. But that's not all. Kenko Skincare takes things up a notch with their unique scent, carefully crafted to strengthen that unbreakable bond between mom and baby. With every whiff, you're not just nourishing your baby's skin - you're also creating memories that will last a lifetime.
In their lineup, you'll find gems like the Soothing Baby Oil, or the Nourishing Cream Wash. These products are more than just a treat for the senses - they're also incredibly kind to your baby's skin.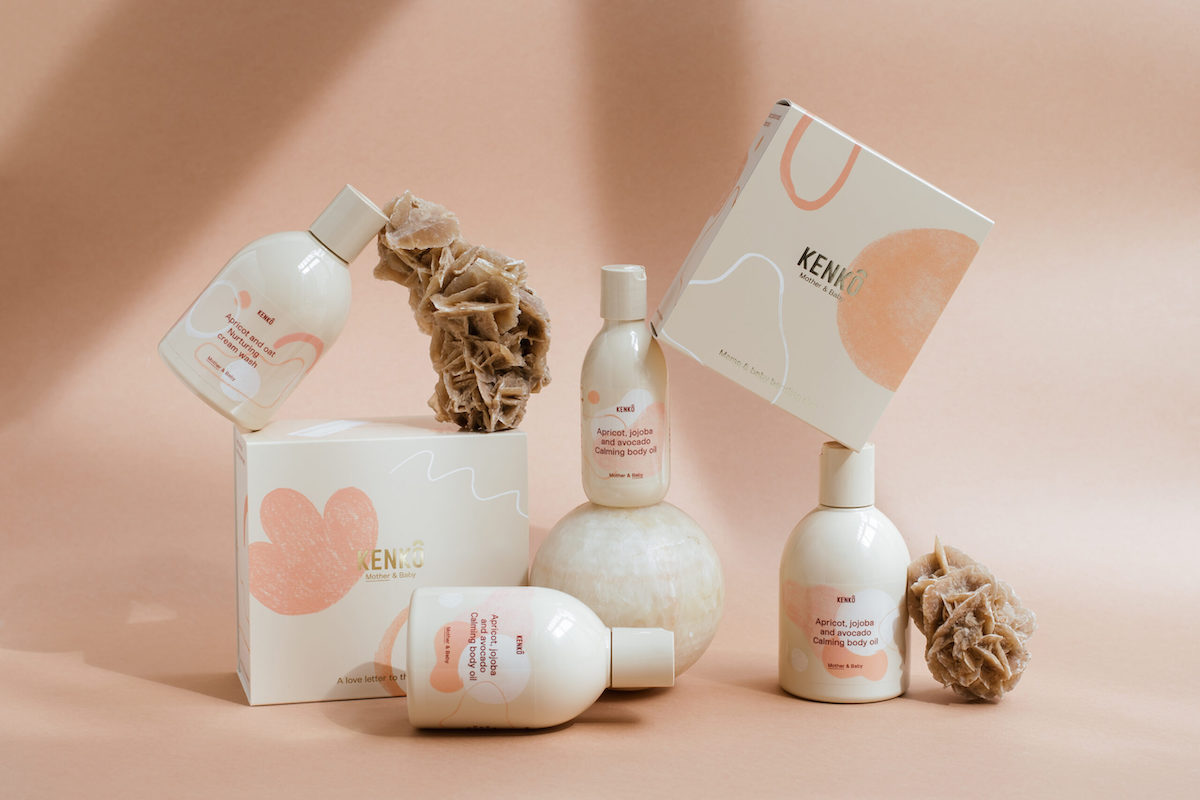 Image @Kenko
Go ahead, explore these fantastic brands and find the perfect care routine for your tiny treasure!
What makes baby care products so exceptional?
Wondering what makes baby care products such a big deal? Well, if you've ever marveled at your baby's skin - softer, smoother, and definitely much cuter than your own - you're on to something. Baby skin is special, and it needs special care.
Babyhaut vs. Erwachsenenhaut: Der zarte Unterschied
You see, baby skin isn't just softer and thinner; it's also more sensitive than adult skin. It's more easily impacted by environmental factors like sun, wind, and dirt. And let's not forget chemicals! Even the smallest amounts of harsh chemicals found in many conventional care products can irritate and dry out your baby's skin.
The Power of Natural and Chemical-Free Products
That's where natural, chemical-free products step up to the plate. These products use the best of what Mother Nature has to offer to gently cleanse, hydrate, and protect your baby's skin. They don't contain any harsh chemicals, artificial fragrances, or dyes that could potentially irritate your baby's sensitive skin. Instead, they're chock-full of nourishing ingredients like aloe vera, chamomile, and calendula, known for their soothing, moisturizing, and healing properties.
Safe and Gentle: The Mantra of the Best Baby Care
Of course, your baby's health is your top priority. That's why your baby deserves only the safest and gentlest care. The best baby care products are those that are not just effective, but also gentle enough for daily use. They clean and care for your baby's skin without disturbing its natural moisture balance or causing any irritation.

The Importance of Natural Baby Care
When it comes to taking care of our little ones, less is indeed more. Natural baby care products avoid the use of synthetic fragrances, colorants, preservatives, and mineral oils. Instead, they're composed entirely of plant-based oils and extracts that nourish and protect baby's skin without causing irritation or dryness.
But the benefits of natural baby care aren't just for the tots—parents, too, can enjoy moments of tranquility in the whirlwind of life with a newborn. Routines like applying cream or massaging your baby not only strengthens the bond between parent and child, but also help in stress relief.
Advantages of Natural Baby Care:
Gentle Cleansing: Natural soaps are less drying than conventional products, making them ideal for your baby's skin.

Nourishing Ingredients: Plant extracts like chamomile soothe irritated skin, while shea butter provides essential hydration.

Free of Harmful Substances: Parabens, silicones, and other harmful ingredients are a big no-no in natural baby care products.
But how do you navigate the sea of products to find genuinely sustainable ones? Quality seals to the rescue. The BDIH seal or ECOCERT certificate assure you that a product was produced organically. Sustainability isn't just a trend—it's a necessary step towards a healthy future for our planet.
There are also initiatives like Fairtrade International that enforce fair prices for producers in the Global South. So, your investment reaches exactly where it's needed. Take a look at these amazing brands and find the perfect care for your little one!
Picking the Best Baby Care Products: A How-to Guide
Picture this: you're standing in the baby aisle at your local store, faced with shelves stacked top to bottom with baby care products. Where do you start? How do you know which ones are the best? The choice can be downright overwhelming.. 
Key Factors to Consider When Choosing the Best Baby Care Products
There are a few key factors to consider when you're shopping around for the best baby care products. Here's the lowdown:
Ingredients:
Look for products that contain natural and safe ingredients. Give those harsh chemicals, artificial fragrances, or dyes a wide berth. Your baby's skin is delicate and deserves the softest, kindest treatment. So keep it simple and natural, folks!
Skin Friendliness:
Aim for products that are hypoallergenic and specifically designed for sensitive skin. Remember, we're dealing with baby skin here—not a rhinoceros hide. It's about as tender as it gets, so you'll want to use products that are as gentle as a mother's touch.
Sustainability:
Go for brands that champion environmentally friendly packaging and sustainable production methods. Let's be real: there's no Planet B. Plus, choosing sustainable products now means your baby will have a greener, healthier world to grow up in.
Customer Reviews:
Last but certainly not least, take a gander at reviews and feedback from other parents prefer. These can provide valuable insights into whether a product actually delivers on its promises. After all, there's no substitute for real-world experience!

Essential Care Products for Newborns: Keep It Simple and Natural
When it comes to newborn care, it's safe to say that less is more. Your baby's skin is soft and sensitive - akin to rose petals or the feel of a cloud (you know, if you could actually touch one). The key is to keep everything gentle, hypoallergenic, and as natural as possible. If your shopping list for baby care products is growing longer than a line at the DMV, take a deep breath. We're here to help simplify things.
The Golden Rule: Keep it Natural and Gentle
For delicate baby skin, good and natural baby care products are a must. They should be gentle, hypoallergenic, and well-tolerated to avoid any allergic reactions. You might be asking, "Which baby care products do I really need?" The answer is blissfully simple: less is more.
In fact, you likely need no more than three core natural care products for your little one:
1. Bathing Product
First on the list, a mild, natural product for bath time. This isn't a spa, and your newborn isn't trying to win any beauty contests. They simply need a product that cleans without stripping their skin of essential moisture. Opt for a fragrance-free, hypoallergenic bath product that's gentle enough for everyday use.
2. Body Care Product
Next, you'll need a body care product. Think of a natural lotion or oil to keep your baby's skin hydrated and happy. Check the ingredients for natural hydrators like aloe vera, shea butter, or coconut oil. These are your skin's BFFs, and they're gentle enough for your baby's sensitive skin.
3. Diaper Rash Cream
Lastly, you can't escape the inevitable diaper rash. It's like taxes, but for babies. For this, you'll need a good diaper rash cream. It should be thick enough to provide a protective barrier, but gentle enough not to irritate the skin further. Look for a product that contains zinc oxide, which is great for healing and preventing rashes, but doesn't come with a side of harsh chemicals.
Remember, when it comes to caring for your newborn's skin, simplicity is key. Stick to the basics, go for natural, and your baby's skin will be thanking you in coos and gurgles. You've got this, parents!
Leave a comment