Five Reasons for Organic Cotton Fabric
5 reasons for choosing high quality organic cotton fabric
When I started to get involved with sustainable fashion, I was primarily concerned with fair manufacturing, environmental protection and the curiosity to discover young talented labels with vision. I have seldom thought about which harmful substances hide in our clothes and how harmful they can be to the skin.
And now since I am pregnant, I find myself dealing with different baby related topics. This is when the clothes issue came up again. This time is not about finding cute outfits for my child; it's more about finding out which textiles are truly skin-friendly.
A term that keeps popping up is organic cotton fabric. Already heard about it a thousand times, but what is actually behind it? Today I'll tell you five good reasons to choose this sustainable material.
© Orbasics
1. No chemicals on your skin
Did you know that about half of all garments worldwide are made of cotton? Conventional cultivation always uses pesticides, insecticides and other chemicals, which we then apply directly on to the skin, at least in small quantities. For organic cotton only natural fertilizers and pesticides are used, which does not produce any toxins during cultivation. It is very soft and has a low allergy potential, which makes the textile particularly skin-friendly.
2.High quality
Organic cotton fabric is a bit more expensive, but the price pays off. The high quality is not only noticeable by the good skin compatibility of the fabrics, but also by the longevity of the items. While buying fast fashion shirts it has often happened to me that they ripped or lost its shape right after the first wash, on the other hand I was always able to enjoy my sustainable items for a longer time. And like fashion icon Vivienne Westwood says, "Buy less, choose well, make it last."
3. Improved living and working conditions for farmers
Although the labeling of organic cotton is mainly for organic farming, it also benefits the farmers. The lack of pesticides or chemical fertilizers is much gentler for the skin as well as for the environment. Also good to know: With the purchase of organic cotton you save soil from artificial fertilizers and other chemicals.
4. Environmental protection through sustainable cultivation
Not So Fun Fact: Immediately after the oil industry, the textile industry is the second largest industrial polluter. However, the cultivation of organic cotton is subject to strict regulations. They assume that the crop rotation is maintained, that only natural pest control agents and fertilizers such as humus or manure are used and that the cotton is picked by hand. This eliminates the use of toxic defoliants. In addition, organic cotton is not genetically modified.
5. Less water consumption
Unfortunately, water consumption can not be significantly lower with organic cotton, but it is definitely less. Farmers are regularly trained to make farming more sustainable and improved technologies save up to 40 percent water. Because organic cotton uses natural fertilizers, the soil can also store the water better.
© Orbasics
You can recognize organic cotton by this seal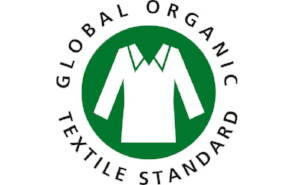 As you can see, there are many good reasons to opt for organic cotton fabric- and not just for the little ones! Because they not only avoid pollutants on sensitive skin, but also reduce the ecological footprint - which is at least as important to me as Mom To Be and for the future of my child. Unfortunately, so far only 1 percent of the cotton used is organically cultivated in a controlled way, and we as consumers can only change this through demand. But how can I recognize the sustainable textile in the first place?
For example, the GOTS seal, short for Global Organic Textile Standard. It takes into account the entire production chain of clothing, including raw material extraction, processing, storage, as well as working conditions. 
Garments with the GOTS seal consist of 95 percent natural fibers such as cotton, wool or silk, of which at least 70 percent must come from certified organic farming. The treatment of the fibers is done with ecological alternatives, such as bleaching on an oxygen basis instead of chemicals. Dyeing with heavy metals or dyes is not allowed. The GOTS certificate also stands for fair wages, the protection of workers and the prohibition of forced labor and child labor, thus championing social standards.
Due to the strict guidelines, the GOTS seal is one of the most sought after and is used by many labels from the eco-fashion scene. Orbasics uses only textiles that are GOTS certified.  
Which other beautiful sustainable kids brands are already on my list, you'll find out in one of the next blog posts!
© Orbasics
Sonja is a long way from having a sustainable wardrobe, but convinced that even small steps are good steps. She lives with her dog and her cat from the animal shelter in Berlin since about 10 years and works there as a freelance editor for the topics Fair Fashion, Organic Beauty, Travel and Tech. 
Leave a comment